Adult Sailing – have fun and enjoy the tranquility of being on the water in Cornwall.
Adult Sailing – Come and do something for yourselves and learn a new skill and be active at the multi-award winning Mylor Sailing School!
Each Adult Sailing RYA Course takes 2 days – However you can do Levels 1 & 2 as a 5 day intensive course
Not sure if you'll like sailing?  Try a TASTER SESSION – read HERE for more details
For Children's sailing course information click here
From Absolute Beginners to Salty Seadogs!  That is what we are here for.  Falmouth and Mylor are areas offering lots of lovely walking, water activities and in a breath taking setting.
The Fal Estuary on the south coast of Cornwall is an idyllic setting for adult sailing and getting out on the water.  Mylor Yacht Harbour is easily accessible with convenient parking.  This is a 10 minute drive from Falmouth and Mylor is a little quieter with easy and free parking with one of our passes.
We book many of our dinghy sailing courses on demand so just get in touch if you would like to book or if you have any further questions!
If you or a member of your party has any kind of disability or special need then please read here for details on how we can accommodate you.  We have adapted boats and a wheelchair friendly powerboat and you can also contact us for more information or to chat anything through.  All of these are adult sailing courses –
LEVEL 1: Start Sailing - 2 Days
Getting Afloat. An introduction to the sport, covering the minimum knowledge required to get afloat under supervision. It will give you a basic understanding of boat handling techniques and background knowledge.
LEVEL 2: Basic Skills - 2 Days
The Foundations of the Sport. On completion of this course, the successful sailor will be safety conscious, have a basic knowledge of sailing and be capable of sailing without an instructor on board in light winds. Assessment is on a continual basis. During the course a capsize recovery will be conducted in a controlled manner, with a rescue craft in attendance. Becoming a competent sailor in light winds with an introduction to sailing techniques and manoeuvres, rigging, launching, safety, capsize recovery and basic rules of the road.
LEVELS 1 & 2 COMBINED - 5 Days intensively
Take both the Levels 1 & 2 on 5 consecutive days and really get to grips with sailing.  You will be ready to hire a boat in light to medium winds by the end of the 5 days – a great achievement!
LEVEL 3: Better Sailing - 2 Days
This intermediate course bridges the gap between the first 2 levels and then the 5 further advanced levels as below. This helps to develop your technique and have a taster of what the advanced levels have to offer.
What do I do now?
What now?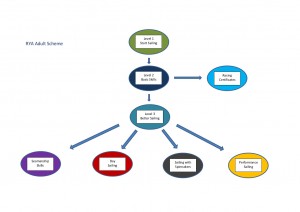 You choose which way you would like to go now.  These courses are for adults (and children who have completed their Stages 1 – 4).  For advice or further information do not hesitate to Contact Us
Start Racing – Go Club Racing - 2 day course
Seamanship Skills - 2 day course
Sail Independently
How to handle a boat in all circumstances and solve problems afloat. This will teach you to sail in a seamanship like manner and make seamanship decisions in moderate conditions.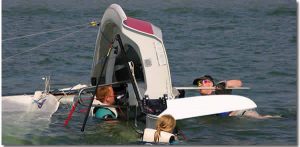 Day Sailing - 2 day course
Sailing with Spinnakers - 2 day course
Symmetrical and Asymmetrical Courses
Everything you need to know about sailing modern three-sail boats. Teaches you how to use an asymmetric or symmetric spinnaker.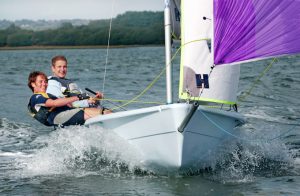 Performance Sailing – Get Coached and Sail Better - 2 day course
The beautiful and award winning Mylor Yacht Harbour lies just around the headland from Falmouth.  Parking is easy and free with one of our passes, and there are lots of other facilities here to – Mylor Boat Hire, the great Cafe Mylor, Castaways Wine Bar to name a few.
We are open 7 days a week and all year round.
You can click here for the link to the RYA pdf pathways for adult dinghy sailing courses
Click here to make and enquiry: Contact us
Alternatively please contact us on info@mylorsailingschool.co.uk or 01326 377633 if you have any further questions about our extensive range of courses for adults.