Want to be a RYA Advanced Instructor and teach in higher performance boats?
This is a 2 day endorsement course which is a simple process and it will enable you to teach the RYA Performance Sailing Courses
For the Advanced Instructor qualification, types of boats would include examples of trapezing and asymmetric spinnaker boats like – Laser 3000, 4000, 5000, RS 200, 400, 29ers, and many more.  This will take your RYA Dinghy Instructor qualification to the next level.  Teach higher level sailing with this qualification.
Have a look here and here for videos on how fast you can go!
Dates, Times and Cost:
The RYA Advanced Instructor course can be arranged on demand – please contact us for further information.

Eligibility:
To be able to take the RYA Advanced Instructor, candidates must hold an in date RYA Dinghy Instructor Certificate and will usually have recorded at least one season's experience of teaching sailing since qualifying. Candidates should have sailing skills to at least the level of the Performance Sailing and Sailing with Spinnakers RYA courses and should have previous powerboat handling experience in a teaching environment.  You will be taught more advanced powerboat handling techniques on the course to improve your on the water coaching alongside these faster boats.

If you are unsure if your skills are to the appropriate level before undertaking this course, call for more information.  We can also offer tuition to enhance your skills and get you to the required level for the RYA Advanced Instructor Course – for further information on this Contact us.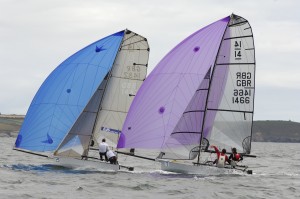 Course overview:
This is a great two day course that will improve your on the water coaching.  You will learn more advanced powerboat positions for coaching alongside your students, and also the required RYA methods to teach the more advanced sailing courses.

Assessment:
The RYA trainer will assess you on a continuous basis afloat, and you may be given a theory test.  Upon successful completion of the course, the Coach/Assessor will sign your logbook and this will add the Advanced Instructor endorsement to your RYA Dinghy Sailing Instructor certificate and extend it for a further 5 years.
If you have any questions, please either click here to email Tracey or call on 01326 377633 / 07971 520257