Friday Night Racing for our RYA OnBoard After School Club
Mylor Vikings!
Friday Night Racing Results Click below –
VIKINGS FRIDAY NIGHT RACE RESULTS SEPT/OCT 2016
There are 2 classes of single handers – Picos and Lasers and also double handers, Fevas and Bahias.  These are calculated on a PY handicap.
Well done to all of you Friday Night Racers!!
Our popular After School Club for local children which runs every night of the week from 4.30pm – 7pm takes youngsters through the RYA Youth Scheme plus Friday Night Racing for those holding at least Stage 3 or above.  The Fal Estuary is a fantastic and beautiful location for dinghy sailing.  Good winds and a little more protected from the open sea swells.  The third deepest estuary in the world and over a mile across there is plenty of water for everyone.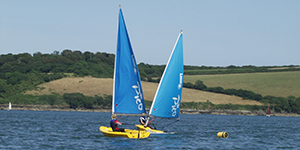 Click Here for more details on the After School Club
This helps prepare youngsters for the more competitive Sailing Club start lines and racing procedures.
We are a sailing school and offer training but a sailing club is for recreational and racing sessions where you would become a member and the club is run by the members.
For dinghy sailing you can join Restronguet Sailing Club which is based in Mylor Yacht Harbour or St Mawes Sailing Club across the Fal Estuary who both offer fantastic racing opportunities for dinghy sailors.  You will have to own your own dinghy though.
We can help advise you on this so ask one of our Senior Instructors  on Contact Us either by giving us a call or sending an email and we will be happy to help.