Mylor Sailability – Winners of 3 Awards!!
January 2016 RYA Sailability Volunteer Outstanding Contribution Award
November 2015 Sport England Sportivate Best New Project for Cornwall and Best New Project for the South West!!  Whoop Whoop!
Mylor Sailability Charity – Making Sailing accessible to all
What is the Mylor Sailability Charity?
The Mylor Sailability is the charitable arm of Mylor Sailing School and is a Charity Incorporated Organisation (CIO) charity number 1159984 and was founded by Tracey Boyne (owner of Mylor Sailing School) in 2013.  Due to the very high demand of sailing and powerboating activities required for all ages and levels of disabilities a charitable arm of Mylor Sailing School was started.  It is dependent on outside donations and funding to keep the club going to cover running costs.
The primary aim of the charity is to make the sport of sailing accessible for people of all ages with disabilities. We do also aim to increase the proportion of all ages playing sport at least once a week. This is to get the local disabled community on the water and keep them there to maintain a healthier lifestyle. Living in Cornwall and surrounded by water, makes sailing a very popular sport. Traditionally this sport engages individuals from more affluent families and the aim of this club is to make sailing more available to all, by providing it at a more affordable price.
The charity is purposely structured to be cost sensitive and therefore accessible to people from our target communities in the West Cornwall areas. The charity supports people to fully engage with the running of the charity which would not only increase their own personal skills but enhance their own Curriculum Vitae. The charity attends various events and sailing regattas throughout the year in order to showcase the newly acquired skills of the participants and to help foster a climate within the charity and community of personal achievement and self-worth.
We aim to get all levels of people with a disability involved with sailing, including gaining sailing awards and regular participation with specialised equipment and well trained instructors. We also aim to involve as many levels of disabilities as we can and already have clients coming from all over West Cornwall to participate regularly.
Our Boats –
All boats have a qualified sailing or powerboating instructor on board at all times.
Sailing
We have keelboats that take up to 4 passengers and 1 skipper.  We have had some minor adaptations to make boarding and sailing a little easier.  You can either sit back and relax and enjoy the sensation of sailing or get involved as much as you like and learn to sail.  There are opportunities to take RYA Sailing Qualifications.  We also have some competitive racing for those who are keen!  Get in touch to find out more and click HERE
If you cannot sit unaided then at the moment we do not have a sailing boat to accommodate this.  We are currently fund raising for a new boat which will have support seats.  We have the hoist, and are really close to completing our fund raising for the boat.
Powerboating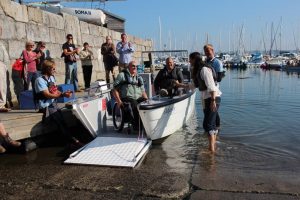 We have a wheelchair friendly powerboat that takes up to 7 passengers and 1 skipper.  The boat can come into the slipway and the front section of this boat flaps down for ease of boarding for anyone with any mobility issues.  This is a fast and exhilarating ride and the boat can take up to 6 wheelchairs, plus the skipper.  Depending on the weather, we may head around to the beaches at Falmouth, passing black rock on the way which is often covered with seals at a low tide.  We also take the boat up the Truro River and other nearby rivers.  Participants can have a go at steering the boat and there are also opportunities to take RYA Powerboating Qualifications, including Powerboat Level 2 license.
If you have a specific question regarding the sessions, boats or anything else then please do not hesitate to get in touch by either phoning 01326 377633 or 07971 520257.  Or email us by clicking on this link info@mylorsailingschool.co.uk
Mylor Sailability Session details, times & costs:
Sessions on Tuesdays and Saturdays –
11am – 1pm and 2pm – 4pm
Please note between the dates of mid – July and the end of August the session times change slightly to –
2pm – 4pm or 5.30pm – 7.30pm
Sessions on Monday afternoons for the over 50s only –
1.30pm – 3.30pm
• Under 18 years £5 and over 18 years £10 per session, parent/carer fee is £5
• All clothing and equipment will be provided
Please contact us to book a place on Sailability sessions or for more information – info@mylorsailingschool.co.uk or call Tracey on 07971 520257
Click here for our location information and accessibility details
Mylor Sailability Available to people aged 8 years – 98 years
Scroll down for more information, the gallery and other news
It does not have to be a registered disability –
The project uses the definition from the 2010 Equalities Act:
A person has a disability if:
(a) has a physical or mental impairment, and –
(b) the impairment has a substantial and long-term adverse effect on your ability to carry out normal day-to-day activities.
Funders include:
West Cornwall Youth Trust – www.westcornwallyouthtrust.org
The Duchy Health Trust – www.duchyhealthcharity.org
Cornwall Sports Partnership and Sport England's Sportivate – www.cornwallsportspartnership.co.uk/sportivate
Wheelyboat Trust – www.wheelyboats.org
Sport England
Mylor Sessions
And many more!! Thank you everybody for all of your support.
Collaborations for getting people aged 50 and over into sporting activities include:
Age UK for Cornwall & The Isles of Scilly www.ageuk.org.uk/cornwall

Want to donate to Mylor Sailability and help to make any of this possible?  You can donate securely through Paypal by pressing this button here
or by contacting Tracey on 07971 520257 or
click here
to email
Mylor Sailability News Items –
https://www.businesscornwall.co.uk/news-by-industry/charity/2016/05/wind-in-charitys-sails/
Pirate FM news for our Sport England Awards November 2015
The delivery of our Wheelyboat October 2015
Boating Cornwall story of our Wheelyboat October 2015
All At Sea article for the Wheelyboat September 2015
Sailability TV video of the story so far July 2015
The grand opening of the new facilities June 2015
National Lottery Funding for new facilities August 2014
West Briton news of Age UK Partnership June 2014
Our first Open Day October 2013
Mylor Sailability is the charitable arm of Mylor Sailing School and is a Charity Incorporated Organisation (CIO) charity number 1159984