RYA Powerboat Instructor Course
Course dates and times:
Powerboat Instructor Course dates – tba
Course fees – £335.00 (including final assessment)
Trainers – tba
Moderator – tba
Pre-entry Assessment – 1:1 £120 / or group price £80 (see details below)
Powerboat Instructor Course Overview:
This 3 day course covers all aspects of teaching Levels 1 and 2 powerboating
During the course you will be taught the RYA's teaching framework
Eligibility and pre-requisites:
Duration: 3 Days
Course Aim: RYA Powerboat Instructor
Minimum Standard: Pre-entry requirements listed here:
Minimum age: 16yrs
Prior to the Instructor Training Course, candidates must attend a skills assessment, details of which can be found on the RYA website.
If you have not completed the pre-entry assessment then this can be arranged but will probably take place approximately a week before or on special circumstances can be arranged as 1:1 tuition.
Prior to the course candidates must fulfil the following requirements:
• Minimum age 16
• Valid first aid certificate (either the RYA first aid course or one recognised by the Health and Safety Executive, covering the treatment of hypothermia and a minimum of six hours course length)
• RYA Powerboat Level 2 certificate
• Candidates should have logged at least five seasons' recreational experience OR if candidates are using powerboats as an integral part of their normal full-time occupation, this period is reduced to one season. All preferably in a range of boat types and sizes.
Candidates will also need a copy of the RYA Instructor Handbook and Logbook – click HERE
The Powerboat Instructor Pre-Entry Skills Assessment:
The powerboat skills assessment ensures you have the necessary personal powerboat driving skills and knowledge to under the RYA Powerboat Instructor course.
It is a pre-entry requirement for the RYA Powerboat Instructor and includes the opportunity to brush up on personal powerboat driving skills followed by a skills assessment which will require a high standard of boat driving, seamanship and personal knowledge within the Powerboat Level 2 syllabus.
The course is designed to assess your powerboat handling skills and background knowledge with candidates expected to demonstrate their ability in all aspects of the Level two syllabus as described in the Powerboat Logbook G20.
The assessment will be carried out by a Powerboat Trainer at a recognised training centre or affiliated club.
Duration: Minimum 3-4 hours
Eligibility: Powerboat Level 2 (Coastal or Inland)
Minimum age: 16 years
Only candidates holding a Level 2 Powerboat certificate with a coastal endorsement will be eligible to attend a coastal instructor course.
The candidate will be given the opportunity that they can demonstrate a level of proficiency in the subject being assessed. Therefore the candidate should be able to explain the subject in great depth, including background theory and practical demonstration.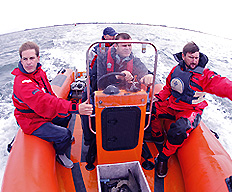 If you have any questions, please get in touch –