Our Sailing Boats
Sailing for all levels – From Absolute Beginners to Salty Seadogs here in beautiful Cornwall!
Our sailing boats – Mylor Sailing School has one of Cornwall's finest fleets of sailing boats, and with various boats to choose from, we can help you plan the perfect boating session.  We normally decide the boat allocations in the morning of your planned session due to the wind strength and level of our sailors.  Sometimes on windy days, we may use bigger boats with the instructors going in the boat with the sailors.  The instructor will either be in the boat with you or coaching from very close by in a powerboat.
Youngsters normally go in pairs in the Laser Pico sailing boats if they are working towards Stages 1 and 2, this is to make it more fun and also for ballast! For Stages 3 it will depend on the size of the sailor and also the wind strength but we try to get as much helming time as possible for each sailor.  Stage 4 has to be experienced in a double handed sailing boats and our RS Fevas are a great youth boat with not too much sail area.  This makes it much better to control.
Adults can go in Laser Pico sailing boats or the larger double handed sailing boats or our 24 foot keelboat.  Boat allocations will depend on the agility, height and confidence of the adult.
Family sailing can be a mix of either the single or double handed boats or you can work together as a team on our 24 foot keelboat with the instructor onboard.  Sometimes sailing off to distant shores and dropping the anchor for lunch.  A wonderful experience.
Our sailing boat fleet consists of Picos, RS Fevas, Lasers, Laser Bahias, Laser 2000, Laser 16, Laser 3000 & J24 keelboat.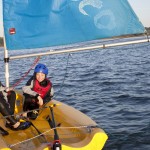 The secret is her quite outstanding stability and easily controlled sail. Newcomers are immediately at ease but it can still provide a workout for the able sailor. Aboard Laser Pico you get the impression she is much bigger than she is – the space is superb with its high boom, centre toe strap and self draining cockpit the Pico really feels like a much bigger boat. The Laser Pico offers everything from quiet recreational sailing to and exciting challenge: for those sailors who wish to learn to sail for a lifetime's pleasure or for those with lots of experience.