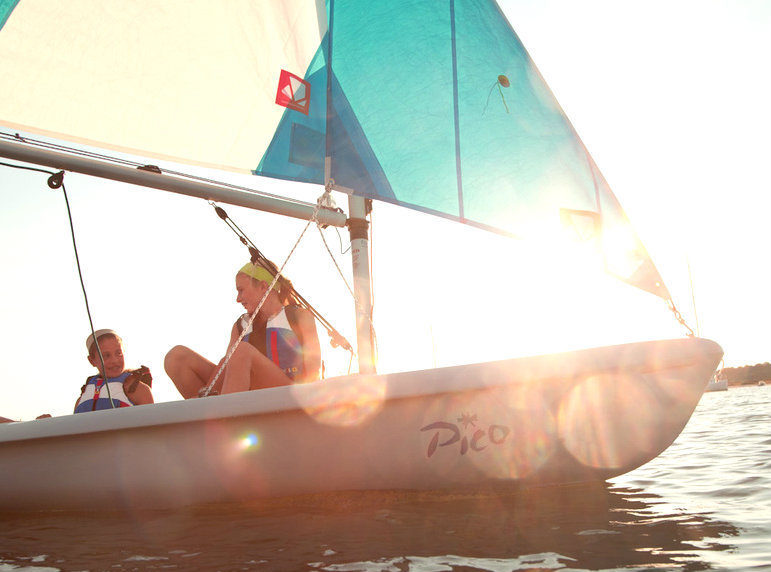 Practice Sessions for Dinghy Sailing
Want to practice your skills in safe environment with a rescue boat in operation at all times?  Try our Sunday afternoon practice session.
More course information
Not currently running due to the pandemic, we may recommence these sessions in April 2022, please enquire for more information.
We offer a practice session for those that can already sail.  This is for children and adults.  Sailors need to have recently completed Adult Level 1 or have similar sailing experience to this level or Youth Stage 3. This is the perfect opportunity to touch-up on your sailing skills. We will lay out a course and then have a rescue craft in operation so that you can practice sailing in a safe environment.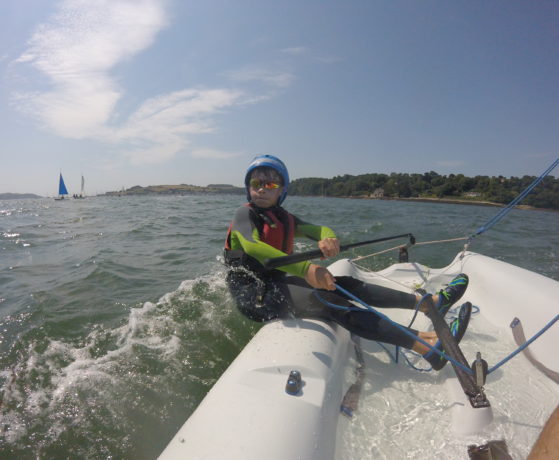 A inexpensive way to practice our new found skills!! Thanks Mylor Sailing School!
Frequently asked questions
When are the Practice Sessions?
On a Sunday afternoon between the months of April and October. The timings are 2pm - 4pm. Booking essential on a week by week basis and sailors must arrive 15 minutes early to set up their own boats.
Do I need to pre-book?
Yes definitely. We have very strict regulations for how many sailors and boats that we can have to each instructor.
I have only sailed yachts, can I do this session?
Sorry no, not without dinghy sailing experience. You may need a half day 1:1 lesson just to convert your skills. Please get in touch to arrange this.
I am a competent dinghy sailor and my child is just beginning, can we go together?
If the conditions are right and you would like to go together in a Pico, then this should be possible. If you would like to discuss anything then please get in touch.
I gained my Level 1 a few years ago will I be able to do the Practice Session?
It will depend on how long ago, and what the conditions are like on the day. Please get in touch to discuss.
What do I need to bring?
We provide all the clothing and equipment you will need. If you are going in a smaller boat then you will get wet. Here at Mylor Sailing School we have plenty of wetsuits for all ages and sizes. If you are going in a dryer boat then we will provide waterproof jackets and trousers to go over your clothing. The only thing we do not provide is footwear so you will need to bring something that you don't mind getting wet, like wetsuit shoes or trainers. If you are wearing a wetsuit you will also need to bring your bathing suit for underneath this and a towel. This will all be explained in your booking confirmation once you have confirmed your booking.
I cannot swim is this ok?
Yes this is absolutely fine. You will always be wearing either a buoyancy aid or a life jacket that will keep you floating if you do enter the water. We normally ask this question on the booking form but it is just for our instructors information.
Do I have to wear a helmet?
It is the policy of Mylor Sailing School for all beginners to wear helmets. Once adults have completed their Level 2 and their skills are current we start to take the helmets off.
I am nervous of capsizing.
If you let the instructor know then they will keep an eye on you. The instructor can talk through the capsize procedure with you. Normally once you have had a practical experience of a capsize in a controlled environment then any fears are normally alleviated.
What happens if it is really windy?
As we are on the western shore of the estuary we are often quite sheltered. If we think it is going to be unsuitable conditions for your training then we will always let you know if the session is not going ahead and try to rearrange the session.
If it rains will it still be on?
Yes, we still go sailing in the rain. Most of the time you are going to get wet anyway! We provide all wetsuits for the smaller wet boats and waterproofs for the larger, drier boats to keep you as comfortable as possible. We also provide all the safety equipment.
I want to buy my own wetsuit, can you recommend where I can do this nearby?
Watersports is a shop based in Mylor Yacht Harbour next door to the Cafe Mylor. If you mention that you are one of our customers then you should get a small discount. They always have plenty of stock and can help and advise on the suitability of a wetsuit depending on the general use of the suit and any other equipment you may need.
Enquire about this course