Mylor Sailing School creating the 'Good Day Promise'
Families from across Cornwall and Plymouth that are supported by Little Harbour children's hospice in St Austell are being invited for free sessions at Mylor Sailing and Powerboat School courtesy of the charity Mylor Sailability.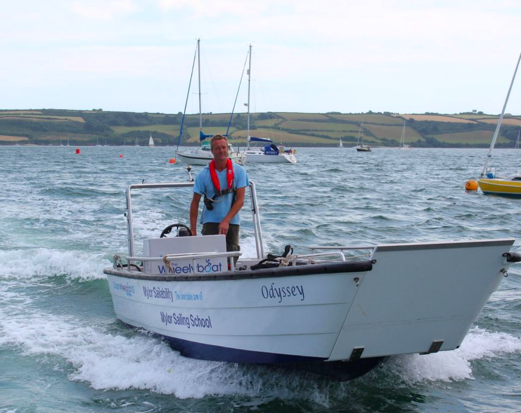 After receiving funding from Cornwall Community Foundation and Seasalt Clothing Company, Sailability has been able to set up a 'Good Day Promise' project offering free sessions for children and their families on their fully accessible powerboat from the end of June onwards.
Courtesy of Mylor Sailability, Little Harbour has been able to offer its families an hour and a half powerboat trip on the beautiful Fal estuary with up to six people. This is an opportunity that many children will not have experienced before despite living so close to the water. For some children with very complex medical needs the planning required for a whole family to attend this sort of activity can be very cumbersome and very often accessibility requirements are simply too difficult to arrange.  However Sailability have everything in place for children and their families to enjoy this experience in a safe way and make really special memories that they will treasure forever.
"We are really thrilled to be working with Children's Hospice South West and want to be as inclusive as possible offering everybody the chance to get on the water, make memories and have fun! We also feel privileged to be able to offer this to families in Cornwall"
Tracey Boyne, Founder, Mylor Sailability.
Take up from families supported by Little Harbour has already been very popular with bookings for the trips coming in thick and fast.
Claire Kilbey, Head of Care at Little Harbour said "We are absolutely delighted to be able to offer our children and families these boat trips. This will be a first for so many of them and it is wonderful to work alongside another charity which champions making it possible to make these special memories like we do here at Little Harbour."
Little Harbour has remained open and adapted its care, for the 145 children it supports, throughout the pandemic. The hospice has extended its support to include home visits and virtual offerings as well as providing resilience and emergency stays at the hospice and end of life care and bereavement support.