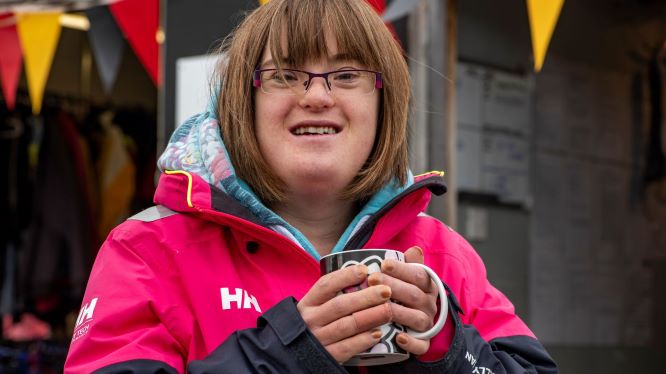 Accessible Sessions
COVID-19 UPDATE. WE ARE STARTING SAILABILITY SESSIONS FROM 3RD APRIL 2021 THIS IS FOR POWERBOAT SESSIONS ONLY. THE WHEELYBOAT WILL BE AVAILABLE FROM AUGUST ONWARDS BUT WITH SMALLER GROUPS AND A MAXIMUM OF 2 BUBBLES. PLEASE GET IN TOUCH TO BOOK AS THE ONLINE BOOKING SYSTEM IS CURRENTLY CLOSED TO THE PUBLIC.
Welcome to our accessible sailing and powerboating information page.  Ages 6 and upwards (no upper age limit).  If you have any kind of impairment, physical disability or learning disability we have scheduled sessions every week. Private sessions also available. Stay active and enjoy being on the water.
See below specific information for the boats, timings, how to book and also links to our Story Boards (step by step guides with pictures for what the sessions involve).
Please click here for our location and contact details link if you have any further questions and to get in touch.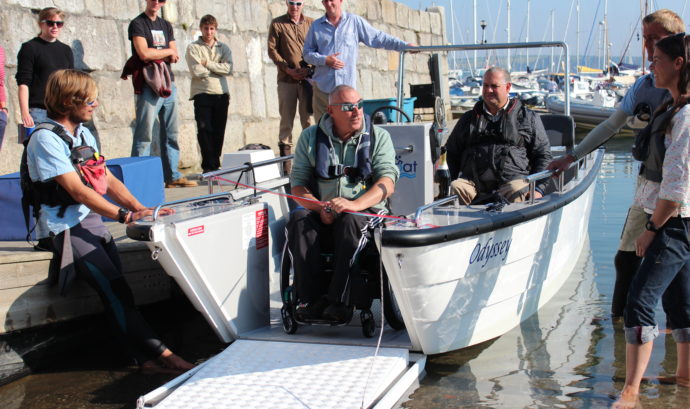 What is available on our Accessible Boats?
Regular sessions available every week, all year round.
Beginner – racing, adult only sessions, and more!
Gain RYA certification in sailing and powerboating.  Pre-booking is essential.  Get in touch to discuss your requirements or book in online.
Book in on one of our scheduled weekly sessions or book a private session.  Get in touch to organise a private session.
Current Scheduled sessions during pandemic –
Tuesdays and Saturdays –
11am – 12.30pm
1.15pm – 2.45pm
Friday afternoons powerboating – Adults only
2.30pm – 4pm
See below for specific sailing and powerboating information and page links –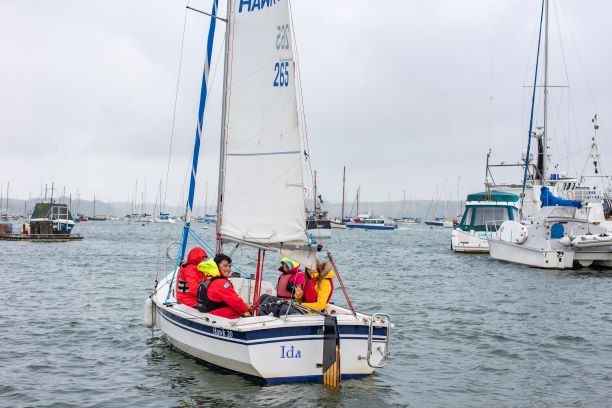 Accessible Sailing Boat
Hawk 20 Accessible Keelboat is a very versatile boat.  We are currently designing a support seat to enable people who cannot sit unaided to sail this boat which we  hope to have available in 2019. Sailors can be hoisted in with a sling system.
READ MORE HERE by clicking on this link for – Accessible Sailing Session Further Information and Frequently Asked Questions
Before you visit you can READ OUR STORYBOARD which is a picture and step by step description of what to expect when you come on a sailing session –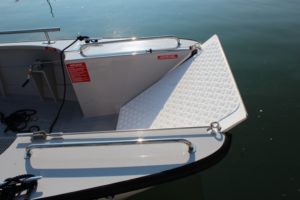 Accessible Powerboat
What is Mylor Sailability?
The Mylor Sailability is the charitable arm of Mylor Sailing School and is a Charity Incorporated Organisation (CIO) charity number 1159984 and was founded by Tracey Boyne (owner of Mylor Sailing School) in 2014. Due to the very high demand of sailing and powerboating activities required for all ages and levels of health impairments, physical disabilities and learning difficutlies, a charitable arm of Mylor Sailing School was started. It is dependent on outside donations and funding to keep the sessions as affordable as possible.
For the information on our trustees, you can see a link at the footer of the page.
HMS Go - Want to donate on a regular basis?
Help Mylor Sailability Go
If you would like to donate just a one off payment you can do via Paypal by clicking on the red box below -
News