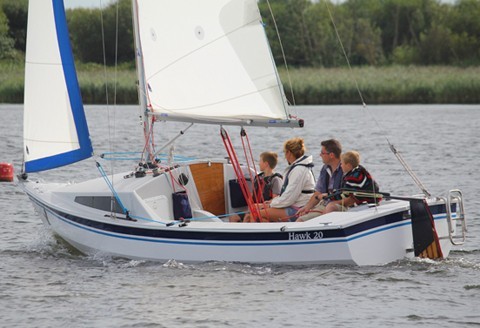 Accessible Sailing Sessions Every Week
Sessions on our adapted accessible sailing boats.  Whether it's a physical impairment, struggles with mobility, any kind of learning difficulty, we can accommodate you!
More course information
Our sailing boats can take between 4-5 participants plus the instructor.  You can either sit back and relax and enjoy the sensation of sailing or get involved as much as you like and learn to sail.
RYA Sailing Qualifications available on our accessible sailing boats.  Competitive racing opportunities.  Please get in touch if you would like to discuss anything.
Our Accessibility Guide will provide you with all areas of our location, facilities, parking.  This also includes photos.  There is also a Word format version of this that you can download and print out at the bottom of the Accessibility Guide page.
We also have a SAILING STORYBOARD which is a step by step picture description of what a sailing session will involve.
You can CLICK on this link for the SAILING STORYBOARD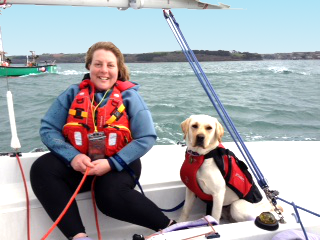 It was fantastic, I will be definitely do again. The staff are very friendly and great at what they do
Frequently asked questions
When are these sessions on?
All year round!! We have scheduled sessions on Tuesdays and Saturdays. Friday afternoons are adults only. We can also arrange a private session if preferred at a time to suit you.
We are open 7 days a week and all year round. Please get in touch to check availability, discuss anything or to book in. All clothing and equipment provided.
What is the access like at Mylor Sailing School
You can check out our access statement at the foot of this website. Click on the link and this will explain the area around the school, including the facilities, parking arrangements, door widths etc. There are also photos. Please get in touch if you have any further questions.
Can I park near the Sailing School?
We are located on a quay and this is also a car park. There are no designated Blue Badge spaces but we do have parking available for you right outside the school. In the busy summer months, you may find it a little tricky getting a space but please just come direct to the school in your vehicle and we will guide you to the best parking which will be right outside.
I have never done it before is this ok?
This is a very frequently asked question! Yes of course, this is what we are here for! Around 60% of our customers are absolute beginners. If you have any apprehensions at all then please contact us and we will endeavour to put your mind at rest.
I have a learning difficulty, will I still be able to gain sailing certificates?
Yes you can definitely achieve sailing qualifications. The Royal Yachting Association has a scheme designed for you. Logbooks and certification is free. You will be asked if you would like to work towards this on your first session with us.
I cannot sit unaided, will I still be able to get onto a sailing boat?
We are in the process of developing a specific support seat for our new Hawk 20. We have a hoist and so you will be able to be hoisted in very soon! If you would like to be added to our email database for updates on developments please just get in touch.
Are there accessible toilets and showers?
Mylor Sailing School is on a protected English Heritage site to do with the history of the D Day landings. This quay cannot be developed with specific plumbing etc. There are fantastic facilities approximately 300m along a flat surface. You can park right outside in the designated accessible parking bays. There are photos and descriptions of the facilities on the Access Statement which you can click on at the footer of this website.
I struggle in social situations, with too many other people, can I book a private session?
Yes you can book private sailing or powerboating sessions outside of the scheduled days. Although we strive to keep the costs as low as possible, there will be an extra charge for private sessions. Please get in touch to book a private session.
What do I need to bring?
We provide all the clothing and equipment you will need. You just need to wear plenty of warm clothing and we provide the wet weather trousers and jackets. Also all safety equipment. The only thing we do not provide is footwear so you will need to bring something that you don't mind getting a bit wet due to either rain or spray. For your footwear you will need either deck shoes/trainers or wellies This will all be explained in your booking confirmation once you have confirmed your booking.
Will the boat capsize?
The keelboats do not capsize. These are drier boats than the dinghies but we do provide full waterproofs and all safety equipment for your comfort.
If it rains will it still be on?
Yes, we still go sailing in the rain. Most of the time you are going to get a bit wet anyway! We provide waterproofs for the larger, drier boats to keep you as comfortable as possible. We also provide all the safety equipment. If you or a member of your group really does not want to go if the weather conditions do not suit, then please let us know. We appreicate cancellations by telephone with as much notice as possible.
Do I have to wear a buoyancy aid/life jacket?
Yes, due to the usual regulations, everybody that is going afloat will need to wear either a buoyancy aid or a life jacket for safety reasons. We have plenty of sizes and styles to suit everyone.
Do I have to book in my carers as well?
Yes please. There are a limited number of spaces on each boat so you definitely need to book the full amount of places that you require. We will also need names and any medical details for all carers. This information can be given on the day though.
Can I get to you by public transport?
A bus will bring you within about a 10 minute walk. Taxis can also bring you from neighbouring towns. If you are driving then parking is really easy right outside our premises. If you would like further information regarding our location and directions then please see the information at the footer of each web page. There is also specific information relating to accessible transport available.
I am an adult, will I have to go with children?
We have adult only sessions for sailing and powerboating. These are on a Monday and a Friday afternoon. If you cannot make these times then please call and we can advise you on the best session to book into.
What is Mylor Sailability?
Mylor Sailability is the charitable arm of Mylor Sailing School and is a Charity Incorporated Organisation (CIO) charity number 1159984. This was founded by Tracey Boyne (owner of Mylor Sailing School) in 2013. Due to the very high demand of sailing and powerboating activities required for all ages and levels of health impairments, physical disabilities and learning difficutlies, a charitable arm of Mylor Sailing School was started. It is dependent on outside donations and funding to keep the sessions as affordable as possible.
Are the staff trained to understand specific needs?
All instructors who work on the accessible sessions have undergone a stage of at least 2 in depth accessible training courses. Please get in touch if you have any specific questions.
Is sailing and powerboating sustainable/environmentally friendly?
All RYA recognised centres are members of The Green Blue incentive. We endeavour to pass on and educate all of our candidates with this mindset. The Green Blue is a UK wide programme created by British Marine and the Royal Yachting Association in 2005 to enable the UK recreational boating sector to decrease its impact on the environment by:
RYA Green Blue sustainability scheme
Raising awareness amongst industry and users
Reducing harmful discharges
Reducing environmental disturbance
Encouraging sustainable choices

Mylor Sailing School is also a member of Surfers Against Sewage's (SAS) 250 business club which is part of a network driving forward a movement for change to protect the UK's unique coastal environment.

Go to the Surfers Against Sewage website for all their details and campaigns. You can also get involved!!!
Enquire about this course