Accessibility guide
Accessibility Guide for Mylor Sailing & Powerboat School
You can also access this guide in the Visit England Accessible Tourism format – Visit England Accessible Guide Details

SHARE THIS GUIDE

Accessibility Guide for Mylor Sailing School and surrounding area in Word Format for printing if required
(last updated July 2021)
(If you notice any error or missing information on this accessibility guide please don't hesitate to get in touch. We would also really appreciate any further feedback regarding this guide or for our facilities)
Worried about Covid restrictions?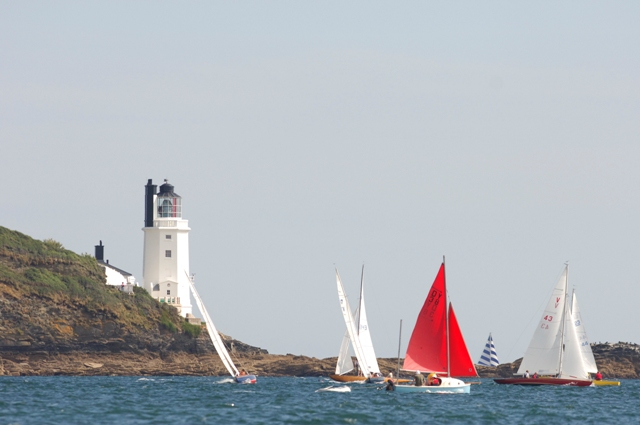 Introduction & Welcome
Mylor Sailing School, near Falmouth, Cornwall, is located in the multi-award winning Mylor Yacht Harbour which is situated on the western shore of the beautiful Fal Estuary.
Mylor Sailing School is on the more protected south coast of Cornwall, and is perfect for sailing and powerboating activities. The Fal Estuary is the third natural deepest estuary in the world.
Mylor Sailing School provides accessible sailing and powerboating. This includes physical disabilities, learning difficulties and other impairments of most kinds.
Staff here have had training with physical disabilities and other health impairments that may have affected you in later life, Dementia, Downs Syndrome, Autism and more.
If you or a member of your party have any questions regarding your situation and if we can accommodate you then please do not hesitate to get in touch. The contact details are at the foot of this website page.
There are Royal Yachting Association Achievement Awards for sailing and powerboating for people with physical disabilities or impairments and also an achievement scheme for people with learning difficulties.
The entire estuary area which is better known as the Carrick Roads is protected as an Area of Outstanding Natural Beauty, from the mouth of the estuary which has St Anthony Lighthouse (aka Fraggle Rock) to one side and Pendennis Castle to the other, deep into the tree lined creeks to Truro.
The Fal Estuary is home to many wading birds, seals and otters, not to mention all the basking sharks and dolphins that come into the Roads to feed.

Contents and Information that this Accessibility Guide Includes –
General Information
Boat & Classroom Information including access to and from boats
Story board links for sailing and powerboating for people with learning difficulties
Booking and Pre-Arrival information
Getting Here – Visiting Us –
Train, Bus, Taxi, Water-Taxi, Car, Dropping Off
Arrival & Access, Public toilets and showers
Extra Equipment Available
Assistance Dogs
Staff Training
Future Plans
Facilities Available around Mylor Sailing School
Accessible Accommodation
Full Contact Details
Customer Feedback or Suggestions
Site Map – Mylor Yacht Harbour
General Information
The whole centre is accessible by electric and manual wheelchairs. Accessible facilities for toilets and showers available in the harbour close by and are well sign-posted with parking right outside and blue badge holder bays. There is also young child changing facilities. Our classrooms and huts are very easy to find all being in close proximity and staff will guide all participants to where they need to go. Classrooms all well signed with dark blue writing on a white background.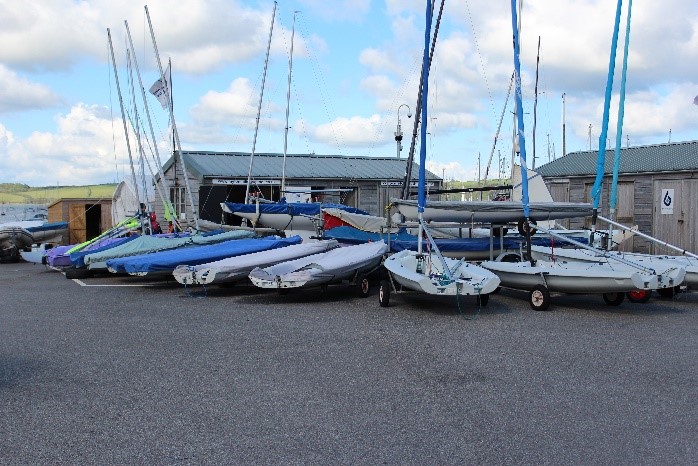 Waterproofs are provided for all activities and there are also either buoyancy aids or life jackets for safety. We have a large range of different sizes. In the unlikely event of you falling in the water, you will be wearing either a manually inflated life jacket where you will have to pull a cord and this will be shown to you on arrival, or an automatically inflated life jacket where you will not need to do anything as it will inflate on the impact of water. We normally give the automatic life jackets to those who cannot swim very well, the less confident or anyone who finds it difficult to follow instructions, e.g. someone with a learning difficulty. Full instructions are given at time of donning the life jackets.
Boat & Classroom Information
Powerboating
There is a wheelchair friendly powerboat where the front section flaps down to allow ease of boarding for those with any kind of mobility problems. It is a high sided boat but has great access.
This fantastic bit of equipment has been especially designed to give a thrilling ride and has comfortable foam seats. Other seats are also available so please do not hesitate to ask.
This boat is designed and manufactured by The Wheelyboat Trust and you can read more about this organisation by clicking Link to The Wheelyboat Trust
We bring the boat into a slipway ramp close to the school and the front section is controlled by a winch which we can then lower down completely to enable boarding for people with restricted mobility or wheelchair users.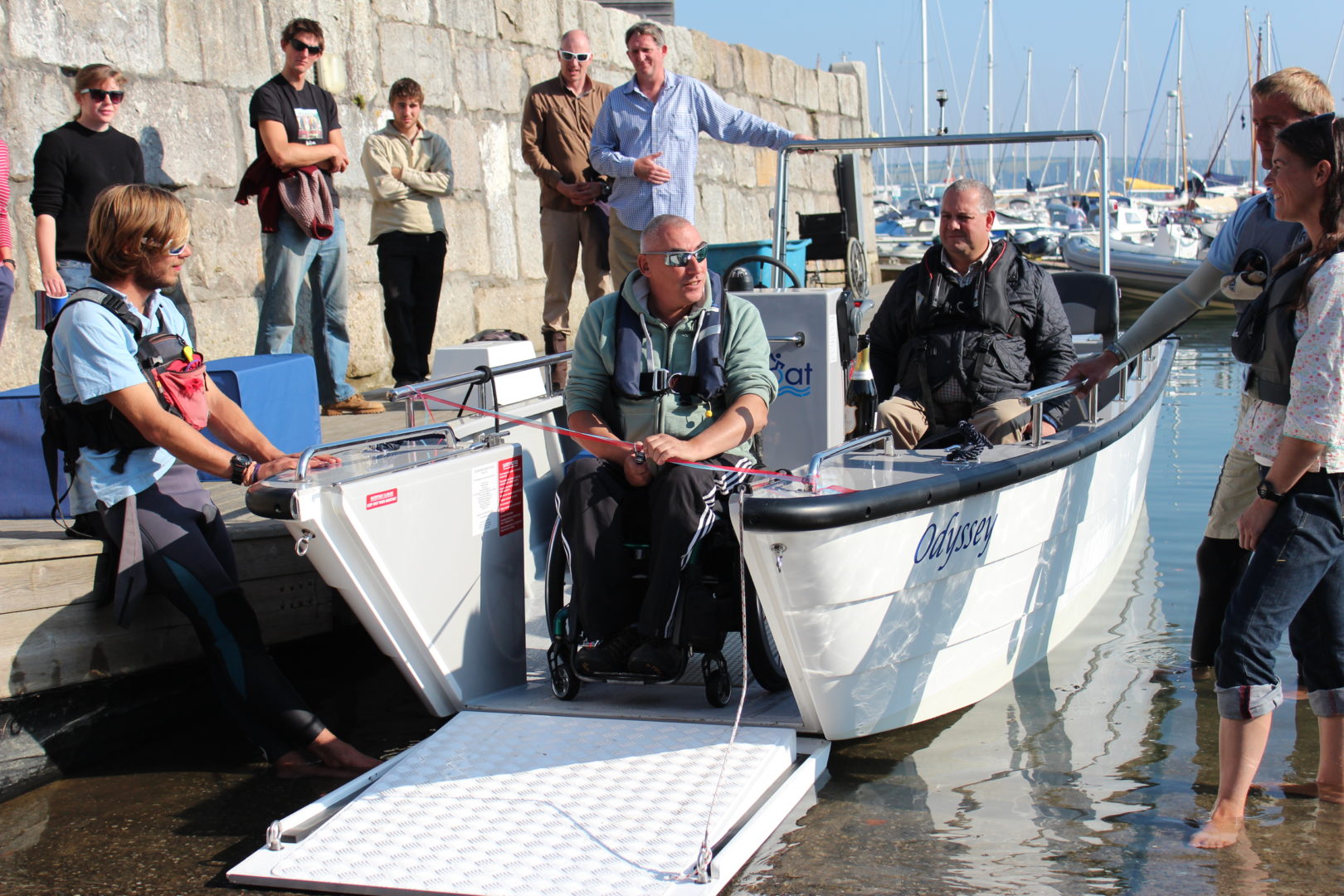 You can have a go at driving the boat and this is also wheelchair users too as the seat comes away from the steering area so you can manoeuvre a wheelchair in quite easily.
We have a Story Board (easy read step by step guide with pictures) for sailing and powerboating.  This is for people with learning difficulties.

Link to powerboating Story Board
There is a Royal Yachting Association (RYA) scheme of achievement and it may be possible to gain the RYA Powerboat 2 License.
You can read Link to Powerboat Level 2 Course for more details on the Powerboat Level 2 course on our website.
There is also a RYA Powerability achievement scheme for people with learning difficulties.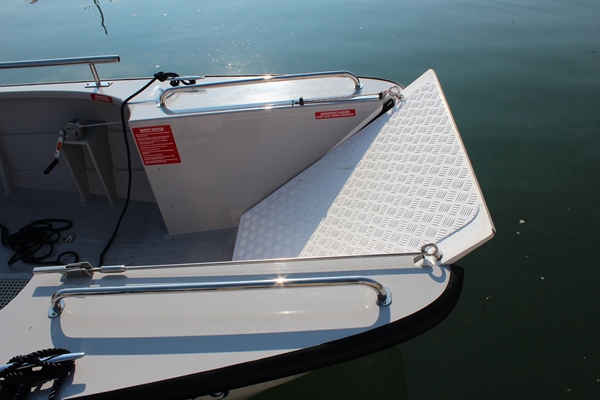 Sessions may include a trip up the river to see the wildlife or out to Black Rock to see some seals. Possibly a stop on a beach somewhere. This is all wind and weather dependent. Your instructor will let you know the plan for the session.
Sailing
Our sailing boats have some adaptations and we have also just added to the fleet a Hawk 20 which is a very versatile boat. We are currently developing a support seat to go into the Hawk 20 for those who cannot sit unaided at present. See 'Future Plans' in this guide for news on the development of this.
We do have some light support seats and also various shaped cushions to help with comfort and you can ask a member of staff if you require anything like this.
See the list of extra equipment available below.

We mainly use small yachts which can take up to 4-5 people plus the instructor.
Getting onto the boats is a small step up of approximately 3 inches/7.5cms.
We also have intermediate steps that we can put in place to help you step down into the cockpit.
The step down with the help of the intermediate step is approximately 6-8 inches/15-20cms.
You can either sit back and relax and be sailed or you can get involved as much as you want to, this is up to you. A sailing session could take you out towards Black Rock. You can also gain RYA achievement certificates for sailing. More details below on how to start these or ask a member of staff.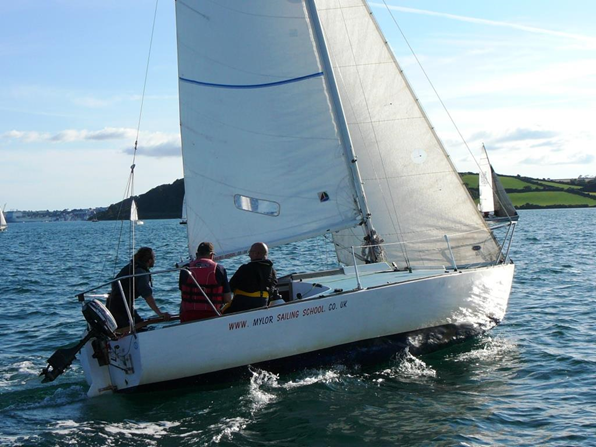 There may also be an opportunity to get involved with the more competitive aspect of sailing with some racing. We currently race on a Friday evening with Mylor Yacht Club against all able bodied sailors and this is great fun. If you are interested in trying this then please contact us on the details at the bottom of this web page.
The boat may heel over a little as shown in this photo but this boat will not capsize as it has a very heavy lead keel under the water that prevents this. This is perfectly normal for the boat to lean over a little and it is very safe.
Classrooms
Our classrooms have a 1:12 ramp access (recommended) and the door is the standard 31.5 inches/80cms width and can be accessed at an angle with plenty of room to turn into the doorway.

Classrooms include projector, screen and hearing loop facility.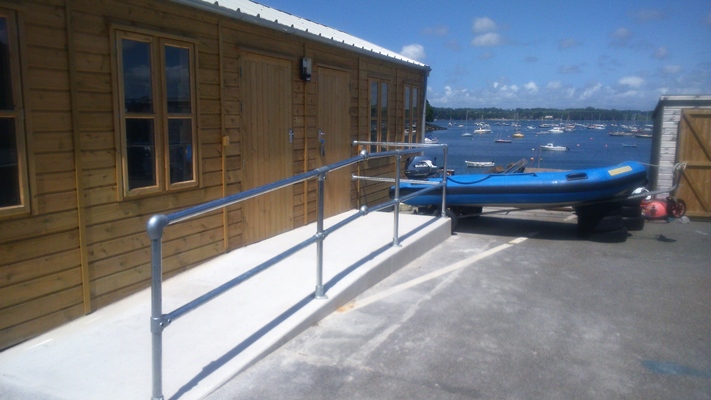 Ramps give access to a pontoon by a slipway and there are boats adapted for those with special access requirements as in the pictures above.
Lighting in all huts are fluorescent tubes.
Tables are wheelchair friendly in the classrooms for covering the theoretical aspects of the sailing or powerboating courses.
Booking & Pre-Arrival
You can book into our sessions by either calling 01326 377633 or emailing info@mylorsailingschool.co.uk or online via the 'BOOK HERE' section on the website – www.mylorsailingschool.co.uk There are specific sessions for people with a learning difficulty, physical disability, or other health impairment, please check the Accessible Sailing section from the main menu of the website for timings and prices etc. You can click Link to Accessible pages on our website to be taken there direct.
All waterproof clothing and safety equipment is provided and help is available from our well trained staff and instructors.
Booking confirmations available in large print, please just ask if you would like this option.
Easy read leaflets also available.
Getting Here – Visiting us
Our Post Code TR11 5UF (please read below though as some Sat Navs can take you on the wrong route)
For full details of our location you can click Link to our location details which contains grid references, Google maps information and Satellite Navigation information.
Train
The nearest train station is Penryn. You will need to take a train to the main station in Truro and then change here for Penryn. You can then take a taxi to Mylor Yacht Harbour which is approximately 10 minutes.
Click Link to National Rail Penryn for the National Rail Penryn Stations made Easy for their Access information.
Taxis
A 2 B 01326 378262 A 2 B Taxis link to their accessible vehicles and more OR Able Cars 01326 373007 Able Cars Website  These taxi services have accessible facilities.
Bus
The nearest bus from either Truro or Falmouth will take you to the top of the hill out of Mylor. It is then a ten minute journey down the hill. (For people with restricted mobility, you will need to take a taxi from the top of the hill by calling one of the numbers above. For further information or advice on this then please do not hesitate to get in touch)
Water Taxi
Falmouth Water Taxi can take you from either Falmouth or The Roseland. Please check their Facebook page for the timetable as it is constantly changing: Link to Falmouth Water Taxi Facebook Page
They can also be reached on 07522 446659 for a private hire. Some accessible facilities depending on the boarding location but contact them direct for further information.
By Car & Parking Facilities
Parking is free and easy with one of our parking passes which will be given to you on arrival. There are no specific Blue Badge spaces on our quay but if you require a large space and also one close to the school then please just call ahead and this will be saved for you immediately in front of the premises. If you cannot find a parking place at peak times, then please come to the school and we will direct you to a suitable place to park which will be right outside the main school.
Dropping off is easy and this can be done right outside the main school. There are no kerbs.
Arrival & Access, Public Toilets and Showers
The sailing school is based on a level quay with a smooth surface and great access straight to the sailing school.
The main sailing school consists of large huts and the doors are always open so no need for an intercom and no entry restrictions. Waterproofs and safety equipment is chosen for you by your instructor and ramped access into the classroom for is available if it is raining.
The yacht harbour itself is on a level hard tarmacked surface throughout.
If you require assistance from your vehicle then this is no problem and there are always staff around to assist with this. If you require special assistance, then please notify us on booking.
Most of the sailing school and classroom access is level with a slight downhill part towards the slipway and pontoon for boarding the boats. There is no handrail on the pontoon but staff are available to accompany anyone.
Seats are available and laid out in front of the sailing school for ease of putting on waterproofs and life jackets.
Payment for your course/session is easy by either paying online or straight to your instructor on arrival. There is no glass or other restricting elements with this part of the process. Parents or Carers have a £5 fee.
There are great facilities for toilets and showers including accessible facilities within the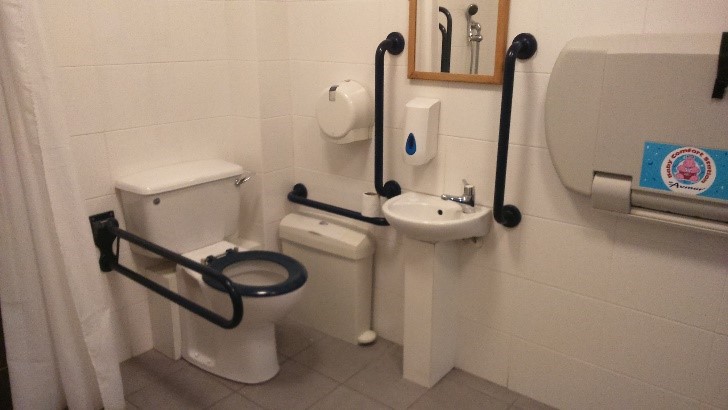 harbour which is well sign-posted. Unfortunately there are no toilet facilities on our quay as this is an English Heritage Site and there is no superior plumbing!
The harbour facilities are approximately 330 yards/300m from the site. The door has a slight ramped access and is the standard 31.5 inches/80cms width and can be accessed straight on and is not at an angle.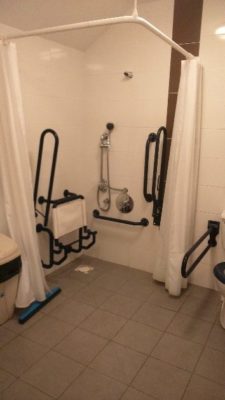 There is a coded access to the door, and this is given on request so please just ask any staff or contact us on 01326 377633 prior to your arrival if required. It is also possible to park right outside these facilities.
If you require assistance to get to the shower and toilet facilities then please do not hesitate to ask one of our members of staff who will be glad to help. There is changing facilities for infants and toddlers but not for anyone weighing more than 5.5 stone/35kgs. There is a very large area with a long 5 foot/1.5m bench inside the shower room though that could be used. Sanitary bins available inside the accessible shower and toilet room.
Extra Equipment Available
Lightweight Manual Wheelchair
We have a large lightweight manual wheelchair which is available for use to go out on the water in case clients are unsure about taking expensive electric chairs.
Mobility Walker
There is a walker to assist those with some mobility issues to get from the school and down the ramp onto the boats.
Cushions and Comfort
Some bean-bag cushions available to add more comfort on the boats.  We also have 2 beanbag arm chairs to fit into sailing boats.
Seat Supports
Light support seats for those that can sit mainly unaided but may just need a small amount of support.
We also have a variety of smaller items including, lap trays, large magnifying glass, portable ramps, intermediate portable steps.
All this equipment is available free of charge so please just ask your instructor.
Assistance Dogs
Assistance Dogs are welcomed at Mylor Sailing School. Life jackets available for dogs.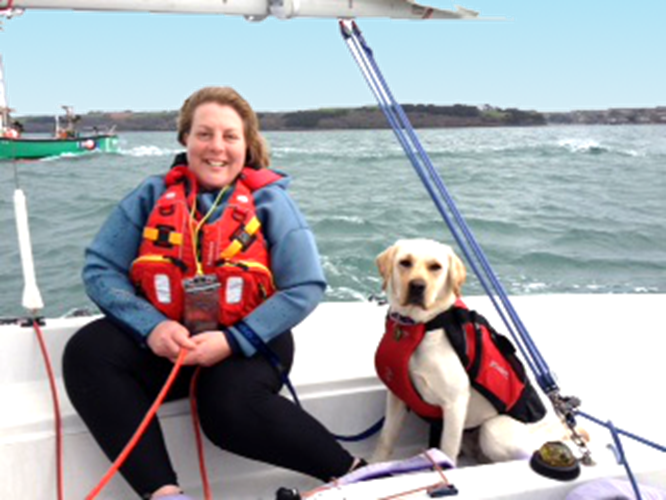 Water bowls are also available with an outside tape right in front of our premises.
Excerising your dog – there is an area of grass for exercising dogs very close to the premises, a member of staff will direct you to this. If you require any help with exercising your dog, then please just ask an instructor who will be happy to assist.
If you have any questions about how your dog can join you on the boats then please do not hesitate to contact us prior to your arrival. Contact details are at the bottom of this website page.
The cafe and restaurant in the harbour allow all dogs and of course assistance dogs. More information regarding Assistance Dogs and your rights can be found on the Assistance Dogs UK website can be found Link to Assistance Dogs website
Staff Training
All staff teaching on the Accessible and Sailability sessions have had Disability Awareness training, Dementia Awareness training, Downs Syndrome and Autism in Sports training. We have also gained the Autism Friendly Award. All instructors are first aid qualified. All staff teaching on the accessible sessions have a lot of experience working with many types of physical disabilities and health impairments and also learning disabilities. All instructors have been checked through the DBS/CRB scheme. If you have any specific questions, then please do not hesitate to ask. Staff training is on-going, and we always welcome any suggestions and feedback that you can give us which will help us to make your experience more enjoyable. Just contact us to give us your feedback. Contact details are at the bottom of this website page.
Future Plans
We are hoping to add another more advanced keelboat to the fleet in 2021, this is a very versatile boat that you can cruise, learn or race on.
We can now hoist those who cannot sit unaided into a support seat for a more comfortable experience onboard one of our sailing boats. This is called a Hawk 20 which is 20 feet long and a Drascombe Longboat.
With large open cockpit area.  These boats are ready for use now and we have a support seat, beanbag chair. This boat is very versatile and will offer recreational sailing and also competitive sailing.
Sailors will be hoisted into the seat via a hoist and sling method.
The sailor will keep the sling with them as they sail and then be hoisted out again with the sling after the sailing session.
The fixed hoist is a fantastic handling aid for participants who cannot sit unaided or need help in getting onto the sailing boat. It is fixed to our stable pontoon and only staff who have been especially trained will be operating it.
The hoist has a couple of slings and the participant can be lifted up and into the boats with the help of the sling and the sling stays with the participant during the sailing session.
Facilities Available around Mylor Sailing School
Mobility Scooters and Electric Wheelchairs
Can be charged at Mylor Sailing School.
Café
There is a great café approximately 200m from the sailing school with ramped access and an outdoor and indoor seating areas. You can enjoy a great breakfast, stunning lunches or take away, with Tregothnan tea, Puro coffee and cakes from the sunny terrace or the spacious interior, whatever the weather. This is Café Mylor and pre-booking is not necessary but if you would like to contact them for any information you can call them on 01326 377743 or email them on info@cafemylor.com . Go to their website – http://www.cafemylor.com/ for menu choices. Accessible toilet inside. Family and dog friendly.
Bar & Restaurant
Castaways is a lovely bar and restaurant in the harbour and offers a perfect blend of Italian-style cuisine, quality seafood, locally sourced produce, draught beers, great wine and stunning views. It is advisable to book in peak times and you can either contact them on 01326 377710 or email info@castawayswinebar.co.uk. You can also book online and see their menu here http://www.castawaysmylor.com/ . There is a lot of outdoor seating with picnic style benches.
Wheelchair users will need to use the far side entrance as there is a step and heavy door at the front entrance. Assistance is always available from their helpful staff. Accessible toilet inside. Family and dog friendly.
Nearest Small Grocery Shop
Mylor Bridge Stores, approximately 1 mile from Mylor Yacht Harbour. This sells lots of good local products and has a small bakery section. Newspapers and a post office are a little further up the hill from the Stores. Not wheelchair accessible although the staff are very friendly and will help you with anything you need. You can park right outside.
Nearest Supermarket
Sainsbury's, approximately 2 miles from Mylor Yacht Harbour. Follow signs to Falmouth and it is off to the right on the roundabout near MacDonalds. It is wheelchair accessible and has accessible toilets.
Nearest Petrol Station
Texaco Garage, Commercial Road, Penryn, approximately 2 miles from Mylor Yacht Harbour. Not wheelchair accessible but there is one 'pay at the pump' facility which is the far pump on the first row. No accessible toilets.
Nearest Cash Point Machine
Sainsbury's, details as above.
Accessible Accommodation
There are recommendations on our main website under the 'links' page for accommodation, including accessible information, but here are some specific places –
Self-Catering
Mylor Apartments – There are some self-catering apartments in Mylor Yacht Harbour on ground level and the Great Britain Paralympic Sailing Team stayed here for their sail training in 2011 for most of the summer. 01326 372121 and website link https://www.mylor.com/holidays/home/ or email enquiries@mylor.com
Penryn Self Catering Apartment – (approx. 3 miles from Mylor) This is a beautiful self-catering holiday home via Falmouth Holiday Cottages Letting Agents, and this is designed for wheelchair users. It is all on one level, has a wet-room, low level appliances and its ground floor. The apartment is called 'Quayside' and it is purpose built for wheelchair users. This web link to them – Falmouth Cottages direct link to their contact us page You can also either call them or there is a facility on their website for a 'live chat' for anyone with hearing loss.
Gwel an Mor – is a holiday village near Portreath. (This is approximately a 35 minute drive from Mylor). The direct link to their accessible accommodation is http://www.gwelanmor.com/stay/accessible-acommodation – They also have an Access Statement – http://www.gwelanmor.com/legal/access-statement
Premier Inn Hotel– Carnon Downs (approx. 8 miles from Mylor), with a few rooms that are wheelchair accessible. It is situated on the A39 between Falmouth and Truro. TR3 6JZ for their postcode. Although they have good facilities for wheelchair users their phone number is a premium rate one with a 13p per minute charge 0871 527 9222 so it is best to book direct online. This is their direct Carnon Downs weblink. http://www.premierinn.com/gb/en/hotels/england/cornwall/truro/truro.html?cid=GLBC_TRUOLD
Camping
There are a couple of options that we know of –
Retanna Holiday Park
Near Falmouth (approx. 10 minute drive to Mylor) and they have Some of their caravans have low thresholds and access has been possible for certain mobility impaired guests. They would be pleased to discuss limitations when making a reservation. For hearing impaired guest's teletext T.V. with subtitle service (888) is available in all caravans. They do not have a fully converted wheelchair access holiday caravan but are working towards this facility.
Read their access statement here – http://www.retanna.co.uk/access_statement.php
Phone 01326 340643 or their main website is http://www.retanna.co.uk/
Menehay Farm Touring Park
Budock Water near Falmouth (approx. 15 minute drive to Mylor). They have 'full disabled facilities' as per their website. They do not have an accessibility statement.
You can contact them on 01326 372550 or their website is http://menehayfarm.co.uk/
Should you have any further needs or queries whatsoever – please just get in touch
Everyone at Mylor Sailing School is here to help
Full Contact Details
Address – Mylor Sailing School, Mylor Yacht Harbour, Falmouth, TR11 5UF
Telephone – 01326 377633 or 07971 520257
Email – info@mylorsailingschool.co.uk
Website – www.mylorsailingschool.co.uk
Grid Reference – 50.1772946 and 5.05432615
Google Maps Satellite ref –
https://www.google.co.uk/maps/@50.1775288,-5.0565513,741m/data=!3m1!1e3
Mylor Sailing School Hours of Operation – 7 days per week, all year round – 9am – 6pm (later in July and August)
Customer Feedback or Suggestions
If you have any comments regarding this Accessibility Guide or our sessions or have noticed any inaccuracies, then please let us know using our contact details or speak to a member of staff who will be happy to help you.
Download Accessibility Guide in Word Format –


Accessibility Guide for Mylor Sailing School and surrounding area in Word Format for printing if required