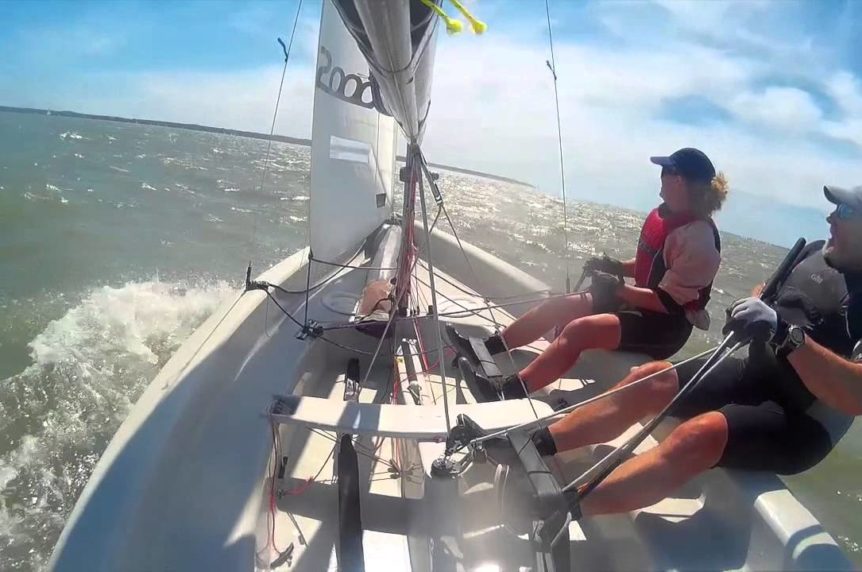 RYA Level 1 Adult Beginner Sailing Course
Getting Afloat. An introduction to the sport, covering the knowledge required to get afloat under supervision. The RYA Level 1 course will give you a basic understanding of boat handling techniques
More course information
All RYA courses and most other training sessions are normally done on demand.
We run courses every week so please get in touch to check availability.
Come and learn to sail in the most wonderful area of Outstanding Natural Beauty, here in Mylor Yacht Harbour, near Falmouth.
Our Fal Estuary is the perfect place to dinghy sail with its sheltered waters.
Most of this 2 day course is spent on the water sailing but there are also some theoretical aspects of the course that will be taught in the classroom ashore.
RYA Level 1 adults sailing course content will include rigging, wind awareness, ropework, sailing techniques & manoeuvres, launching & recovery, some sailing theory and background, clothing and equipment, meteorology, capsize recovery.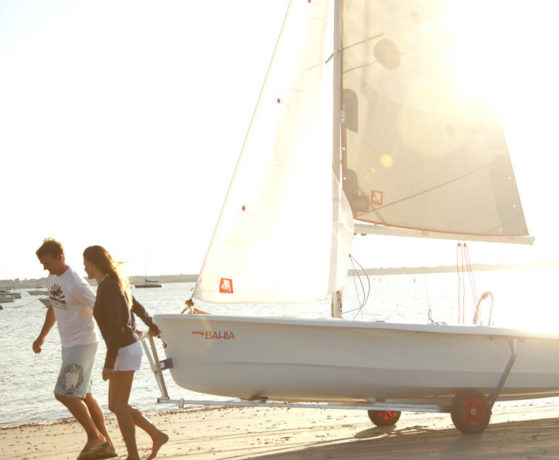 Coming back to dinghy sailing after a 6 year break due to having children, I was looking for a hands-on refresher course that I could build from. Tracey was great, recommended the right course and I have completed 5 sessions of solo dinghy sailing and am looking to book the next. All instructors are friendly with a wealth of experience in different vessels. The facilities are clean, warm and well stocked with kit. Feedback is valued and requested after the first and last session, very well organised!! I can't wait to go back and keep getting on the water without necessarily joining a sailing club.

Frequently asked questions
When do you run these courses?
We can run this course at a time to suit you. Most of our courses are done on demand. We are open 7 days a week and all year round. Please get in touch to check availability and to book in. All clothing and equipment provided. This can be booked on a 1:1 basis or we can get you to join a group if preferred.
I have never done it before is this ok?
This is a very frequently asked question! Yes of course, this is what we are here for! Around 60% of our customers are absolute beginners. If you have any apprehensions at all then please contact us and we will endeavour to put your mind at rest.
I gained my Level 1 a few years ago, do I have to start again or can I go straight to Level 2?
If you have had quite a long time since you have been on the water then depending on how long this period is, we will either have to start again or blow out a few cobwebs. It is probably best to call to discuss so that we can advise you the best course to sign up to. You may be able to just book a half day 1:1 session and we can get you up to scratch.
I have a disability/learning difficulty/health condition, can I learn to sail or powerboat?
Yes yes yes!! Of course you can. Depending on the nature of your need we have a variety of boats, well trained staff and lots of great equipment to make this all possible. Please do not hesitate to contact us if you have any specific questions. Two different certification schemes available. Please read our Accessibility Guide at the top of every page for further info on our site.
All staff have specialist training to be able to aid all of our customers.
What do I need to bring?
We provide all the clothing and equipment you will need. If you are going in a smaller boat then you will get wet. Here at Mylor Sailing School we have plenty of wetsuits for all ages and sizes. If you are going in a dryer boat then we will provide waterproof jackets and trousers to go over your clothing. The only thing we do not provide is footwear so you will need to bring something that you don't mind getting wet, like wetsuit shoes or trainers. If you are wearing a wetsuit you will also need to bring your bathing suit for underneath this and a towel. This will all be explained in your booking confirmation once you have confirmed your booking.
Do I have to wear a helmet?
It is the policy of Mylor Sailing School for all beginners or rusty sailors to wear helmets. Also if going from the larger boats and into the smaller single handed boats for the first time as the boom is much lower. Once adults have completed their Level 2 and their skills are current we start to take the helmets off.
Do I have to capsize?
Here at Mylor Sailing School we will never make anybody do anything that they would not like to do. For the more elementary stages of sailing you need to understand what to do in the event of a capsize and this will be talked through/demonstrated when you are booking onto the RYA courses. Normally once you have had a practical experience of a capsize in a controlled environment then any fears are normally alleviated.
What happens if it is really windy?
As we are on the western shore of the estuary we are often quite sheltered. If we think it is going to be unsuitable conditions for your training then we will always let you know if the session is not going ahead and try to rearrange the session.
Is sailing and powerboating sustainable/environmentally friendly?
All RYA recognised centres are members of The Green Blue incentive. We endeavour to pass on and educate all of our candidates with this mindset. The Green Blue is a UK wide programme created by British Marine and the Royal Yachting Association in 2005 to enable the UK recreational boating sector to decrease its impact on the environment by:
RYA Green Blue sustainability scheme
Raising awareness amongst industry and users
Reducing harmful discharges
Reducing environmental disturbance
Encouraging sustainable choices

Mylor Sailing School is also a member of Surfers Against Sewage's (SAS) 250 business club which is part of a network driving forward a movement for change to protect the UK's unique coastal environment.

I want to buy my own wetsuit, can you recommend where I can do this nearby?
Watersports is a shop based in Mylor Yacht Harbour next door to the Cafe Mylor. If you mention that you are one of our customers then you should get a small discount. They always have plenty of stock and can help and advise on the suitability of a wetsuit depending on the general use of the suit and any other equipment you may need.
Do I have to wear a buoyancy aid/life jacket?
Yes, due to the usual regulations, everybody that is going afloat will need to wear either a buoyancy aid or a life jacket for safety reasons.
Enquire about this course