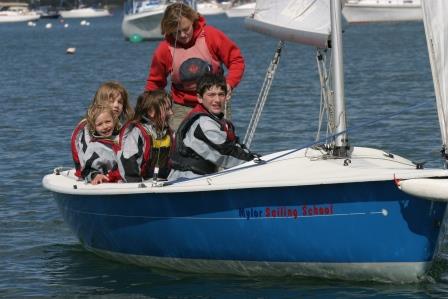 Children's Fun Sailing Activities School Holidays
Fun fun fun! Get on the water with our fun sailing sessions in the school holidays (not July or Aug).  Absolute beginners welcome.  Games and confidence building sessions for children aged 6 – 16 years.
More course information
The Fun Activity Sailing Sessions are run on Tuesdays and Thursdays in the school holidays (not July & August).  A fantastic way to get on the water and either practice your existing skills or have a taster of sailing.  Games and confidence building activities.  For ages 6 – 16 years.  Our outstanding beautiful waters here near Falmouth will take your breath away.  July and August offer Swallows and Amazons fun sessions on a Sunday morning please read more here – Swallows and Amazons
Half Days only for 2023 – 2pm – 3.30pm
Next dates 2023 –
Mon 23rd Oct – 1 SPACE
Wednesday 25th Oct – 3 SPACES
You must pre-book either online or by calling
Please call 01326 377633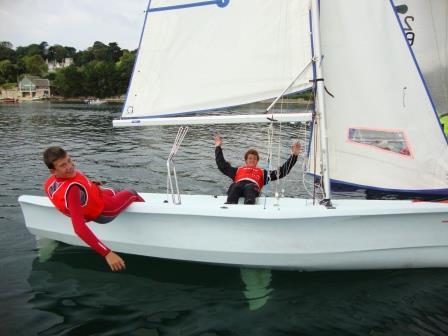 Our kids had a fantastic morning sailing taster session, really well organised and we felt very confident re safety etc. They all got involved (boys and girls ages 12-14). They thoroughly enjoyed the trip around to Falmouth and were very lucky to see dolphins and seals too! They're all keen to have more lessons
Frequently asked questions
When exactly do you run these sessions?
On Tuesdays and Thursdays in the Easter break, May and October half term school holidays.
Do I need to pre-book or can I just turn up?
Pre-booking is essential. We often completely fill and due to the Royal Yachting Association's strict guidelines we are only allowed 6 people with 1 instructor. You can book and pay online via the website or call to book.
I have never done it before is this ok?
This is a very frequently asked question! Yes of course, this is what we are here for! Around 60% of our customers are absolute beginners. If you have any apprehensions at all then please contact us and we will endeavour to put your mind at rest.
What boats will you use on these sessions?
Depending on the wind, weather and experience of the children that are booked in for each session will depend on our decision for the types of boats that we will use. We will use a larger dinghy for the younger, less experienced/nervous children and the instructor will be in the boat with them. If the wind, weather allows, and sailors are experienced then we will also take out the Laser Picos.
What do you do in these sessions?
We play games, build balance and confidence skills, have races and make the sessions as fun as possible. If children want to jump in the water and it is safe and appropriate to do so then we will also incorporate this into the sessions.
What do I need to bring?
We provide all the clothing and equipment you will need. If you are going in a smaller boat then you will get wet. Here at Mylor Sailing School we have plenty of wetsuits for all ages and sizes. If you are going in a dryer boat then we will provide waterproof jackets and trousers to go over your clothing. The only thing we do not provide is footwear so you will need to bring something that you don't mind getting wet, like wetsuit shoes or trainers. If you are wearing a wetsuit you will also need to bring your bathing suit for underneath this and a towel. This will all be explained in your booking confirmation once you have confirmed your booking.
Do I have to wear a helmet?
It is the policy of Mylor Sailing School for all beginners to wear helmets. Once children have completed their Stage 3 and their skills are current we start to take the helmets off.
Do I have to capsize?
Here at Mylor Sailing School we will never make anybody do anything that they would not like to do. The larger boat will not normally capsize and only experienced sailors will go in the smaller Picos.
I cannot swim is this ok?
Yes this is absolutely fine. You will always be wearing either a buoyancy aid or a life jacket that will keep you floating if you do enter the water. We normally ask this question on the booking form but it is just for our instructors information.
How many people in a group?
For Sailing, depending on the level of experience of the sailor will determine how many we are able to have in a group due to the Royal Yachting Associations strict regulations. We are generally allowed to have 6 people to 1 instructor for the first few levels of the RYA courses. Depending on the experience of the sailors it may vary between 6:1 or 9:1. We also have assistant instructors on these sessions.
Enquire about this course