RYA Performance Sailing Advanced Course
This is for children or adults and is a 2 day advanced course. The emphasis is on coaching to improve your boat handling skills and performance.
More course information
All RYA courses and most other training sessions are normally done on demand. If you cannot see your required dates on the electronic calendar then please get in touch and we can add them for you, no problem!!
RYA Performance Sailing – 2 days.  Want to be able to sail faster and with a higher performance sailing boat? What better place to do it than beautiful Cornwall South Coast waters?  Here in Mylor we have an award winning harbour with easy access to the water.  One of the best places to launch in the UK.
Course content includes, being able to rig any type of boat, set up, tuning, gel as helm and crew and sail efficiently on all points of sailing in a variety of conditions, symmetric or asymmetric spinnaker, can use sail controls to effect changes to shape and power of sails, can spot and use windshifts and gusts to effect best course up and down wind, can tack, refining skills according to conditions, Shows understanding of roll tacking principles, can gybe, refining skills according to conditions, Shows understanding of roll gybing principles, theory and background of wind, tides, advanced weather.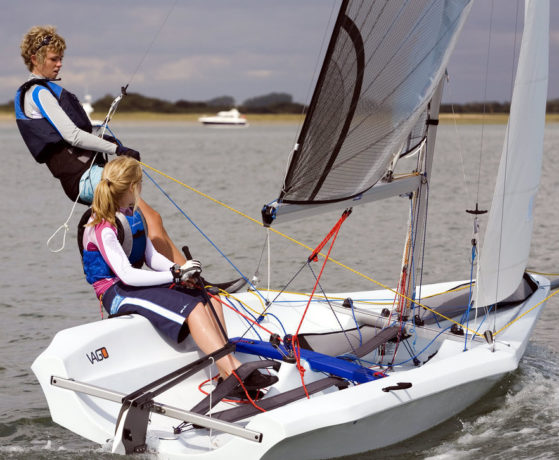 Friendly and unpretentious; flexible and good value. Lovely location. Would recommend.
Frequently asked questions
When do you run these courses?
We do most of our courses on demand so please get in touch to check availability or to discuss anything. We are open 7 days a week and all year round.
I gained my Level 2/3 a few years ago, do I have to start again or can I go straight to Performance Sailing?
If you have had quite a long time since you have been on the water then depending on how long this period is, we will either have to start again or blow out a few cobwebs. The Performance Sailing course requires skills to be current. It is probably best to call to discuss so that we can advise you the best course to sign up to. You may be able to just book a half day 1:1 session and we can get you up to scratch.
What do I need to bring?
We provide all the clothing and equipment you will need. If you are going in a smaller boat then you will get wet. Here at Mylor Sailing School we have plenty of wetsuits for all ages and sizes. If you are going in a dryer boat then we will provide waterproof jackets and trousers to go over your clothing. The only thing we do not provide is footwear so you will need to bring something that you don't mind getting wet, like wetsuit shoes or trainers. If you are wearing a wetsuit you will also need to bring your bathing suit for underneath this and a towel. This will all be explained in your booking confirmation once you have confirmed your booking.
I cannot swim, is this ok?
Yes this is absolutely fine. You will always be wearing either a buoyancy aid or a life jacket that will keep you floating if you do enter the water. We normally ask this question on the booking form but it is just for our instructors information.
How many people in a group?
For Sailing, depending on the level of experience of the sailor will determine how many we are able to have in a group due to the Royal Yachting Associations strict regulations. We are generally allowed to have 6 people to 1 instructor for the first few levels of the RYA courses. Here at Mylor Sailing School, once we get a beginner group of more than 4 we prefer to also put an assistant instructor with the instructor so that we do not dilute the tuition too much. Depending on the experience of the sailors it may vary between 6:1 or 9:1. Tuition also available on a 1:1 basis. These ratios are slightly different for our fun sessions though.
Do I have to wear a buoyancy aid/life jacket?
Yes, due to the usual regulations, everybody that is going afloat will need to wear either a buoyancy aid or a life jacket for safety reasons.
I want to buy my own wetsuit, can you recommend where I can do this nearby?
Watersports is a shop based in Mylor Yacht Harbour next door to the Cafe Mylor. If you mention that you are one of our customers then you should get a small discount. They always have plenty of stock and can help and advise on the suitability of a wetsuit depending on the general use of the suit and any other equipment you may need.
Enquire about this course