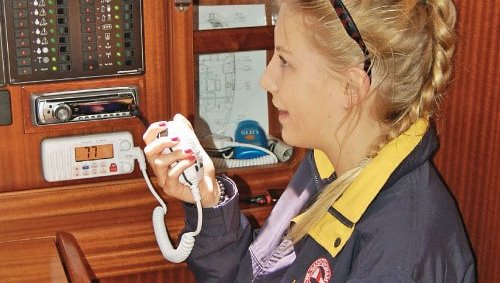 RYA VHF Marine Radio SRC Course
RYA VHF Marine Radio Course – Short Range Certificate (SRC) 1 day course with 2-3 hours pre-course reading.  See dates here.
More course information
WE ARE NOW RUNNING THESE COURSES – SEE FUTURE DATES BELOW
YOU CAN BOOK ONLINE FOR THIS COURSE OR CONTACT US BY PHONE
A VHF Marine Radio whether handheld or fixed enables communication with coast stations, port/harbour authorities and with other vessels.  This form of communication is an important piece of safety equipment and it is vital to understand the correct procedures.
The RYA VHF Marine Radio Course is 1 day's tuition with 2-3 hours of pre-course reading.  Towards the end of the day you will also sit an examination with an external moderator.
The Short Range Certificate (SRC) is the minimum qualification required by law to control the operation of VHF and VHF Digital Selective Calling (DSC)  equipment on any British flagged vessel voluntarily fitted with a radio. This includes both fixed and hand held equipment using International channels.
Our well equipped ramped access classroom in Mylor, based near Falmouth is ideal for learning with wonderful views of the estuary. Parking is easy and we have free passes for your convenience.  We also have a hearing loop and other additional aids for a variety of needs.  Please contact us to discuss.
NEXT COURSE DATES –
Friday 1st July 2022 – FULL
Saturday 16th July 2022 – Spaces
Monday 25th July 2022 – Spaces
Saturday 13th August 2022 – Spaces
Monday 22nd August 2022 – Spaces
Saturday 3rd September 2022 – Spaces
Saturday 10th September 2022 – Spaces
Monday 19th September 2022 – Spaces
Saturday 1st October 2022 – Spaces
Saturday 8th October 2022 – Spaces
Monday 17th October 2022 – Spaces
Saturday 29th October 2022 – Spaces
Wednesday 9th November 2022 – Spaces
Monday 21st November 2022 – Spaces
Tuesday 6th December 2022 – Spaces
Later dates tbc – please get in touch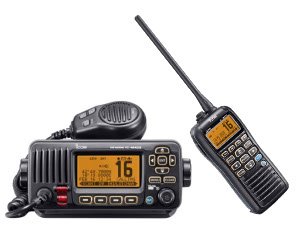 A great course and our trainer was really patient and knowledgeable! Great classroom too!
Frequently asked questions
When do we run these courses?
Twice a month (during peak times and once a month in the Autumn and Winter) either on a weekend or a Monday. Pre-booking essential.
Are there any pre-requisites for this course?
There is 2-3 hours pre-course reading that will be emailed out to you on booking. You will also be emailed a link to the RYA registration process for the license. You will then have to print out the registered form on an A4 piece of paper in a landscape format and bring this with you on the day of the course. There is a license fee of £60 payable direct to the RYA on registration.
What is the format of the day?
Most of the day is training to use the VHF radios and learning about other essential information. There will be a couple of coffee breaks and also a lunch break. This will take us up to approximately 4.30pm - 5pm. A separate moderator and assessor will then give you a 25 question, multiple choice exam paper. You will then carry out an emergency procedure on the VHF radio. The day should finish between 6pm - 6.30pm approximately.
How long will it take to receive my license?
The RYA process your license direct upon successful completion of the examination at the end of the day's course. We will then send off the registration forms direct to the RYA within 24 hours. The RYA's processing time is at least 3 weeks and the license will be posted out direct to the address you have registered with them.
I am a complete beginner, is this the right course for me?
Yes absolutely. This course will take you through the basics and by the end of the course you will be competent in using a VHF Short Range radio.
If we are a family all using the radio on-board our boat do we all need a license?
By law the main registered operator needs a license but needs to be on-board if others who do not have a license are using the radio.
Will the license expire?
No it will not expire but there may be some updates from time to time. You can check the Offcom website for up to date information.
Is the examination difficult?
It is not too difficult, just following the correct set of procedures that you will be taught throughout the day and you will receive a book with all the correct procedures in to keep from the course.
We have just upgraded our fixed VHF to a DSC model, can you come to our boat to give us some training?
Yes, we can do VHF radio specific training for you. We will just need to know the make and model before hand. Taking the VHF assessment for an updated license is then up to you but can be arranged to take place at Mylor Sailing School.
Can you give us some training on our own boat with our radio?
Yes we can arrange for a trainer to carry out specific tailormade training to your model of fixed VHF radio on your own boat. Please get in touch to arrange this or for more information.
What do I need to bring?
We provide all the technical equipment required. You will need to bring, a writing pad and pencil. Erasers and pencil sharpeners available. Also we provide hot drinks. You will also need to bring your registration form from the RYA in a landscape format with a passport photo. Details on how to register will be given upon booking.
Enquire about this course