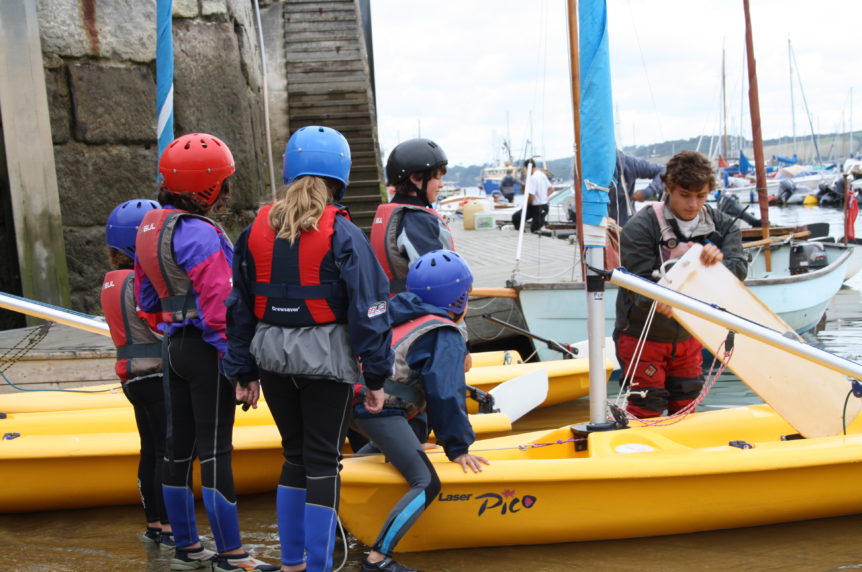 RYA Youth Stage 2 Children's Sailing Course
Youth Stage 2 involves a wider range of sailing skills that will be taught including some extra points of sail. Children will learn to control the boat speed.  Read more…
More course information
Courses run EVERY WEEK throughout the school holidays!
Normally done over 5 x half days but can be done in 2 full days.  This course goes from ages 8 – 15 years.  For ages 8 – 10 though we would recommend the 5 x half days due to attention span and tiredness.  Please don't hesitate to get in touch if you cannot see your desired dates on the electronic calendar.
RYA Youth Stage 2.  Once children have mastered sailing across the wind they can move onto Stage 2.  This Stage will get youngsters sailing a bit more efficiently.  There are also a couple of extra relevant knots, help to improve wind awareness and some more theory behind sailing small boats. They will learn further basic sailing skills and techniques, rigging, ropework, collision avoidance.  They will be able to tack and control boat speed.
Come and join us in Mylor and see Cornwall from a different and stunning view!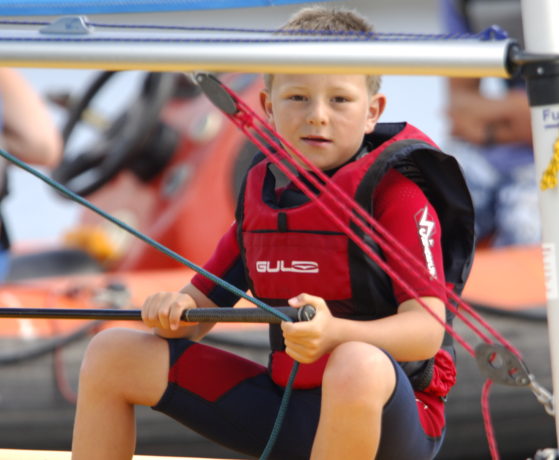 My daughter, 10, completed her RYA levels 1-3 here over the Summer Hols. She did it over a couple of days with a small group of kids. She had done a couple of the 'Fun Days' with these guys previously, plus a private sailing lesson with an instructor. As usual she came back saying how much she enjoyed it, great instructors, plently of time out on the water! It's certaininly fired her passion for sailing, she can't wait to go back and do her next levels.


Frequently asked questions
When do we run these courses?
Every week in all of the school holidays. For ages 8 - 15 years. You can do 5 x half days or 2 full days but we do recommend the 5 x half days for the younger ones (ages 8-10). You also get to see a better variety of wind conditions if you spread this over the 5 days. We do a morning or an afternoon session. If you do not see the course on our bookings calendar then please get in touch as we can create the course for you and book you in!
I have not taken an RYA course before but I have some sailing experience and have been on the water a few times, should I go straight to Stage 2?
If you are unsure whether or not your child is capable of going straight to Stage 2 because they have some experience already and have helmed a dinghy, had a go at tacking etc, then please just call us for advice.
Do I have to wear a buoyancy aid/life jacket?
Yes, due to the usual regulations, everybody that is going afloat will need to wear either a buoyancy aid or a life jacket for safety reasons.
What do I need to bring?
We provide all the clothing and equipment you will need. If you are going in a smaller boat then you will get wet. Here at Mylor Sailing School we have plenty of wetsuits for all ages and sizes. If you are going in a dryer boat then we will provide waterproof jackets and trousers to go over your clothing. The only thing we do not provide is footwear so you will need to bring something that you don't mind getting wet, like wetsuit shoes or trainers. If you are wearing a wetsuit you will also need to bring your bathing suit for underneath this and a towel. This will all be explained in your booking confirmation once you have confirmed your booking.


I have a disability/learning difficulty/health condition can I learn to sail or powerboat?
Yes yes yes!! Of course you can. Depending on the nature of your need we have a variety of boats, well trained staff and lots of great equipment to make this all possible. Please do not hesitate to contact us if you have any specific questions. Please read our Accessibility Guide at the top of every page for further info on site.
All staff have specialist training to be able to aid all of our customers.
Do I have to capsize?
Here at Mylor Sailing School we will never make anybody do anything that they would not like to do. For the more elementary stages of sailing you need to understand what to do in the event of a capsize and this will be talked through/demonstrated when you are booking onto the RYA courses. Normally once you have had a practical experience of a capsize in a controlled environment then any fears are normally alleviated.
How many people in a group?
For Sailing, depending on the level of experience of the sailor will determine how many we are able to have in a group due to the Royal Yachting Associations strict regulations. We are generally allowed to have 6 people to 1 instructor for the first few levels of the RYA courses. Here at Mylor Sailing School, once we get a beginner group of more than 4 we prefer to also put an assistant instructor with the instructor so that we do not dilute the tuition too much. This is not the case for our fun sessions though. The RYA state that for their courses, depending on the experience of the sailors ratios may vary between 6:1 or 9:1.
Enquire about this course