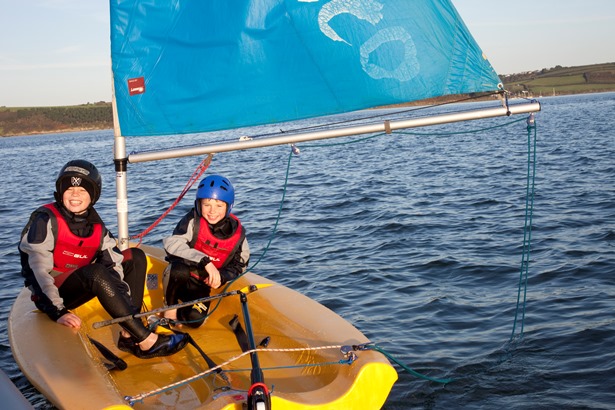 RYA Youth Stage 3 Children's Sailing Course
Children will learn to sail faster and more efficiently.  Stage 3 involves sailing in all directions according to the wind, rigging, launching, basic manoeuvres.  Read more…
More course information
The Stage 3 course runs EVERY WEEK in the school holidays.
Normally done over 5 x half days but can be done in 2 full days.  This course goes from ages 8 – 15 years.  For ages 8 – 10 though we would recommend the 5 x half days due to attention span and tiredness.  Please don't hesitate to get in touch if you cannot see your desired dates on the electronic calendar, as we can easily add them to it.
On completion of this level you will be able to competently launch and sail a boat round a triangle in light to medium winds. Fruther technical manouevres including coming alongside, picking up moorings, man over board etc.
RYA Youth Stage 3 will also include mastering the capsize recovery.  Building confidence on each session and really thinking about how a sail works and understanding the wind.  Stages 3 and 4 tend to take a little longer to complete than Stages 1 and 2.  The RYA Youth Stages are designed for sailors to be 'working towards' each stage, ticking off sections as they go.
Come and join us in our Area of Oustanding Natural Beauty in Falmouth, Cornwall.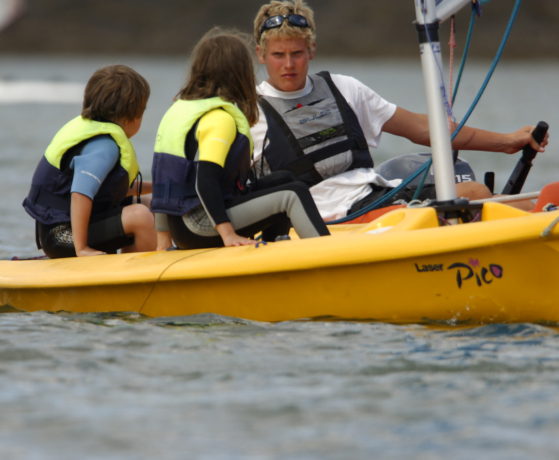 Great all round! Friendly and unpretentious; flexible and good value. Lovely location. Would recommend for children of all ages.
Frequently asked questions
We do we run these courses?
Every week in all of the school holidays. For ages 8 - 15 years. You can do 5 x half days or 2 full days but we do recommend the 5 x half days for the younger ones (ages 8-10). You also get to see a better variety of wind conditions if you spread this over the 5 days. We do a morning or an afternoon session. If you do not see the course on our bookings calendar then please get in touch as we can create the course for you and book you in!
What do I need to bring?
We provide all the clothing and equipment you will need. If you are going in a smaller boat then you will get wet. Here at Mylor Sailing School we have plenty of wetsuits for all ages and sizes. If you are going in a dryer boat then we will provide waterproof jackets and trousers to go over your clothing. The only thing we do not provide is footwear so you will need to bring something that you don't mind getting wet, like wetsuit shoes or trainers. If you are wearing a wetsuit you will also need to bring your bathing suit for underneath this and a towel. This will all be explained in your booking confirmation once you have confirmed your booking.


How many people in a group?
For Sailing, depending on the level of experience of the sailor will determine how many we are able to have in a group due to the Royal Yachting Associations strict regulations. We are generally allowed to have 6 people to 1 instructor for the first few levels of the RYA courses. Here at Mylor Sailing School, once we get a beginner group of more than 4 we prefer to also put an assistant instructor with the instructor so that we do not dilute the tuition too much. Depending on the experience of the sailors it may vary between 6:1 or 9:1. Tuition also availalbe on a 1:1 basis. These ratios are slightly different for our fun sessions though.
I cannot swim is this ok?
Yes this is absolutely fine. You will always be wearing either a buoyancy aid or a life jacket that will keep you floating if you do enter the water. We normally ask this question on the booking form but it is just for our instructors information.
I want to buy my own wetsuit, can you recommend where I can do this nearby?
West Country Watersports is a shop based in Mylor Yacht Harbour next door to the Cafe Mylor. If you mention that you are one of our customers then you should get a small discount. They always have plenty of stock and can help and advise on the suitability of a wetsuit depending on the general use of the suit.


I have a disability/learning difficulty/health condition can I learn to sail or powerboat?
Yes yes yes!! Of course you can. Depending on the nature of your need we have a variety of boats, well trained staff and lots of great equipment to make this all possible. Please do not hesitate to contact us if you have any specific questions. Please read our Accessibility Guide at the top of every page for further info on site.
All staff have specialist training to be able to aid all of our customers.
Is sailing sustainable/environmentally friendly?
All RYA recognised centres are members of The Green Blue incentive. We endeavour to pass on and educate all of our candidates with this mindset. The Green Blue is a UK wide programme created by British Marine and the Royal Yachting Association in 2005 to enable the UK recreational boating sector to decrease its impact on the environment by:
RYA Green Blue sustainability scheme
Raising awareness amongst industry and users
Reducing harmful discharges
Reducing environmental disturbance
Encouraging sustainable choices

Mylor Sailing School is also a member of Surfers Against Sewage's (SAS) 250 business club which is part of a network driving forward a movement for change to protect the UK's unique coastal environment.

Go to the Surfers Against Sewage website for all their details and campaigns. You can also get involved!!!
Enquire about this course