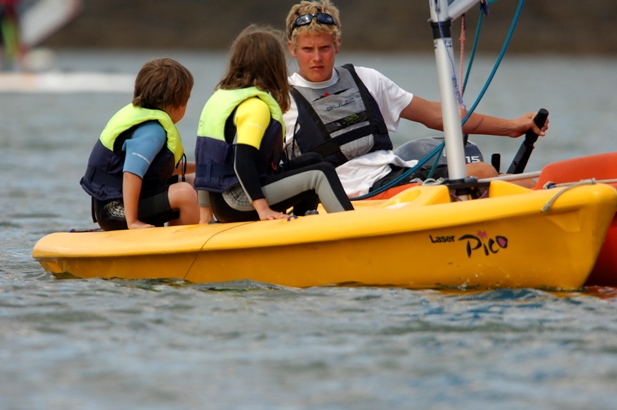 RYA Sailing Instructor Pre-Assessment
What do I have to do to be a RYA Dinghy Sailing Instructor? –
Sailing Pre-Assessment completed within 1 year of Sailing Instructor Course.
More course information
NEXT COURSE DATES – Organised on demand please get in touch
You must be at least 16 years old.
Hold a current First Aid Certificate
Hold a RYA Powerboat Level 2 Certificate – This course can be arranged on demand for you
Complete the RYA Safe and Fun Safeguarding Children online interactive course (see below for more information)
Complete a 5 day RYA Dinghy Sailing Instructor training course with moderation
N.B. IT IS IMPORTANT YOU ARE AS PREPARED AS POSSIBLE BEFORE ARRIVING AT THE CENTRE, MAKING SURE YOU HAVE READ A CURRENT COPY OF THESE RYA PUBLICATIONS G14, G4 & G11 BEFORE THE COURSE AND PLEASE REMEMBER TO BRING THESE WITH YOU.  
These RYA publications are available to buy online here –
G14  – RYA Dinghy Coaching Handbook & Logbook
G4   – RYA National Sailing Scheme Syllabus and Logbook (Adults)
G11  – RYA Youth Sailing Scheme Logbook
They are also available to purchase at Mylor Sailing School (near Falmouth)
Sailing Instructor Pre-Assessment  –
To be eligible for the 5 day RYA Dinghy Sailing Instructor Course you will need to take  a short practical assessment by a RYA trainer.  This can be arranged at a RYA Sailing School.   You need to be able to sail a double handed dinghy confidently to the standard detailed below and have the appropriate background knowledge.
The candidate should be able to complete the following tasks competently and confidently, sailing at all times with an awareness of the 5 essentials (Course Made Good, Trim, Balance, Sail Setting, Centre-board).
All candidates for Dinghy Sailing Instructor must pass this practical sailing test prior to attending the Dinghy Sailing Instructor training course.  An optimum wind strength of 11 knots is required to undertake the assessment. This is done over half a day and can be arranged on demand at Mylor Sailing School, near Falmouth.
In the Pre-Assessment session for the sailing instructor you will always be asked to perform the following:
Sail around a triangular course
Each leg of the course will be a minimum of 100 metres
Use the 5 essentials
Close mark rounding
Use all the boats equipment to best advantage including spinnaker if carried
Sail a tight circular course
Circles less than three boat length's radius around a stationary boat
Make only one tack and one gybe
Sail trim and boat balance/trim suited to the manoeuvre.
The circle should be as small as you can safely make it, but the assessor will accept that, in doing this, you might have to leave the centreboard in one position.
Sail a follow-my-leader course
The course may include all points of sailing and may be behind another sailing dinghy or a powerboat.  The assessor will be looking for a small constantly maintained distance between you and the boat ahead on all points of sailing. A boat length or less is usual.
Pick up a Man Overboard Dummy
Boat must be stopped dead in the water when you pick up the dummy
Pick up at the windward shroud
Do not tack while you pull it aboard
More than one attempt should not be needed
You may be asked to complete some of the following:
Sail without a rudder or with the tiller on a loose elastic (tethered rudder).
This exercise highlights your appreciation of the 5 essentials and demonstrates whether you understand the effects of variations in sail trim and boat balance/trim.
The assessor may ask you to sail around a triangular course with the tiller loosely secured using an elastic loop, or with the rudder raised or removed. You will be expected to make good progress around the course in a seamanlike manner.
The assessor will expect you to make any modifications to sail area, sheeting arrangements and centreboard position before you start, so that the whole exercise proceeds smoothly. You will not be penalised for reefing, if conditions are such that it would be seamanlike to do so.
In the unlikely event of there being several boats sailing rudderless in any area, the Assessor would expect you to maintain good awareness of the other boats and take avoiding action early if necessary.
Lee shore landing and departure
Anchor or pick up a mooring
Come alongside a moored boat
Recover a capsized dinghy and sail away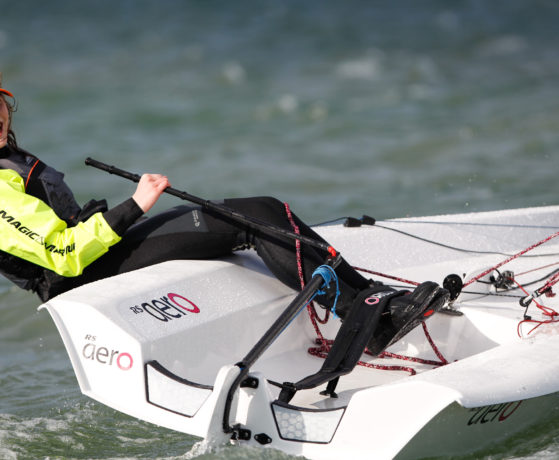 Really fantastic training, thanks a mil. Great centre, great trainers. Really friendly.
Frequently asked questions
Enquire about this course