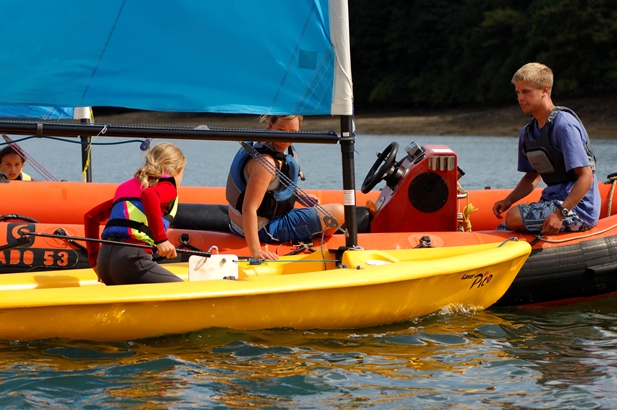 RYA Dinghy Instructor Course
Want to teach dinghy sailing?  You must take this 5 day training course plus some other pre-requisites detailed here.
More course information
NEXT COURSE DATES –
Full 5 day course Monday 1st – Friday 5th July 2024
Please note you MUST have taken the Pre-Assessment before this training course which needs to be carried out by an external RYA Assessor.  Please get in touch for details on our dates for this or read more here – Pre-Assessment Info
Want to teach sailing?  Become a dinghy instructor and be outside and on the water every day!  You can teach children and adults of various levels from beginners to salty seadogs.  A very enjoyable job working within a team and getting to do the hobby that you love.  There are always plenty of jobs around for you in the UK and overseas with the demands of learning to sail increasing each year.  You just need to get your personal skills to the right level and following the other pre-requisites below you will then be ready to go!  The RYA Dinghy Sailing Instructor qualification is recognised in all sailing schools throughout the UK and many overseas sailing schools.
Course overview
Pre-Course Work: On booking this course, candidates will be sent a separate email a little closer to the course date, which will contain full details of the pre-course work in it which will include topics for discussion and topics to teach on the course. You will be teaching to your peers and will learn good teaching practice and the best way to teach the RYA Method to a variety of learners.  This work must be completed prior to attending the course.  The maximum number on a course will be 6 people.
This 5 day course covers all aspects of teaching beginners and improvers to sail and is the first rung on the sailing instructor ladder.  You will be able to teach up to the RYA Level 2 adult sailing scheme and then at the discretion of the RYA Principal of the centre you are working at, you will be able to teach the other aspects of the RYA syllabus depending on your individual experience.  This could include Sailing with Spinnakers, the many different levels of the Racing scheme, Day Sailing with some chart navigation and Seamanship Skills which is advanced sailing techniques and also solving problems afloat.
During the week you will be taught the RYA's teaching framework known as 'The Method' which encompasses single and double handed sailing. The week is very intensive and may include some evening sessions.
N.B. IT IS IMPORTANT YOU ARE AS PREPARED AS POSSIBLE BEFORE ARRIVING AT THE CENTRE, MAKING SURE YOU HAVE READ A CURRENT COPY OF THESE RYA PUBLICATIONS G14, G4 & G11 BEFORE THE COURSE AND PLEASE REMEMBER TO BRING THESE WITH YOU.  
These RYA publications and books are available to buy online here – G14   G4   G11
These RYA publications are also available to purchase at Mylor Sailing School – please enquire to check availability and stock.
Eligibility and pre-requisites
Duration –
5 Days
Course Aim –
RYA Dinghy Instructor
Minimum age –
16yrs
Prior to the course candidates must fullfil the following requirements:
Minimum age 16
Valid first aid certificate (either the RYA first aid course or one recognised by the Health and Safety Executive, covering the treatment of hypothermia and a minimum of six hours course length.  Click RYA's details of what your First Aid Certificate should include
RYA Powerboat Level 2 certificate
Passed a pre-assessment within 1 year of the course date.  This can be arranged with Mylor Sailing School before the course either to join a group or on a 1:1 basis if required.
Complete the RYA Safe and Fun Safeguarding Children online interactive course click here to go to the online course
Minimum Standard –
Please click here for the list of pre-entry requirements
For more information Mylor Sailing School email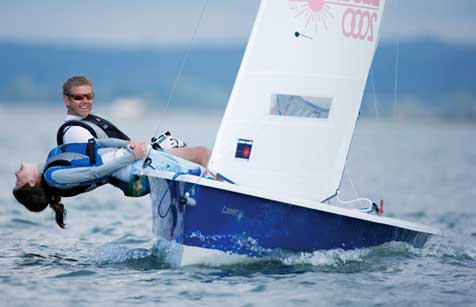 Such a brilliant course. Great facilities and boats. Would definitely recommend.
Frequently asked questions
What level of sailing do I need to be before I can become an instructor?
Please read the notes of the Pre-Assessment criteria for what other course you need and also the skills you will be assessed on by going to the Pre-Assessment page on this website.
Can you recommend anywhere close-by to stay?
Yes! There are a couple of B and Bs or some camping within 2 miles of the sailing school. Please see our 'Useful Links' on the home page footer for recommendations.
I only have inland experience, is it ok to do this course at your coastal location?
Yes. In 2017 the RYA changed their Instructor Course policy to the removal of tidal/non-tidal and coastal/inland distinction from RYA Sailing, Windsurfing and Powerboat Instructor qualifications. It would benefit you if you did some research or training for coastal locations though. Tides, anchoring, coastal weather would be recommended as a minimum. If you are unsure then please get in touch to discuss and we will be more than happy to help.
Enquire about this course