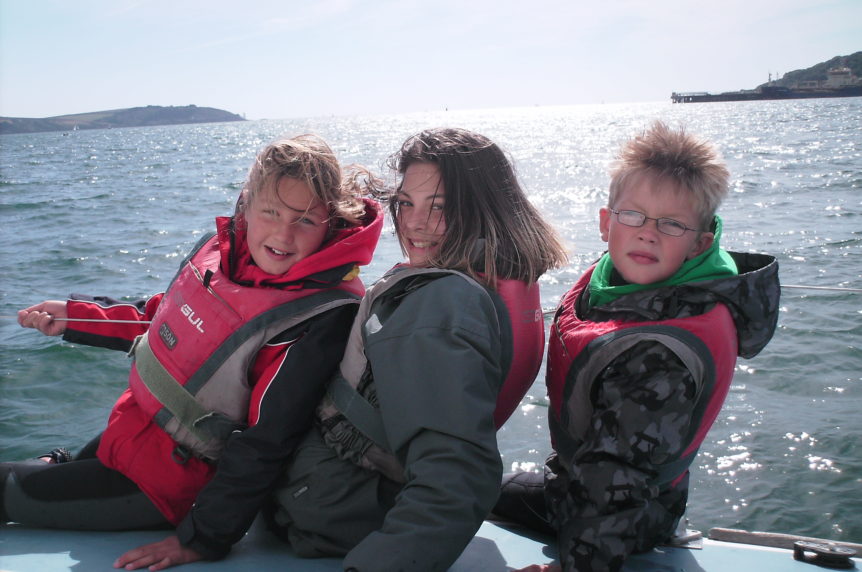 RYA Family Sailing Courses
Why not all learn to sail together and have the family experience?
More course information
We can run these courses any time during the holidays – please get in touch to book!
Absolute beginners to salty seadogs welcome!  Work towards the RYA Training Scheme for adults and children.
All RYA courses and most other training sessions are normally done on demand. If you cannot see your required dates on the electronic calendar then please get in touch and we can add them for you, no problem!!
We can book you onto one of our larger keelboats and the instructor would be onboard with you or in the smaller dinghies, where the instructor would coach you from close by in a powerboat.
We can cater for all your family needs.  Whether some of you have some experience or not, we can create a memorable family experience of learning to sail in the beautiful Cornwall waters.
Get in touch if you would like to discuss any options.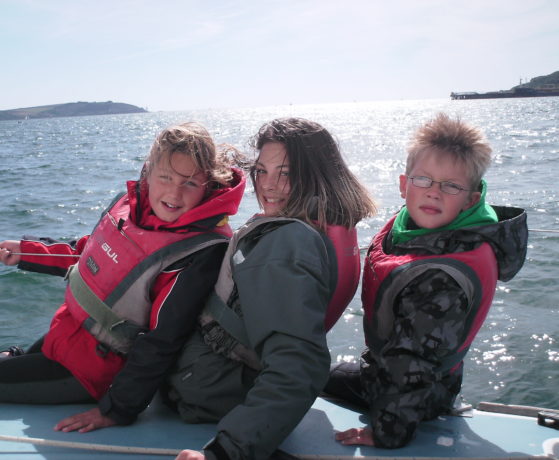 A fantastic introduction to sailing, we arrived as complete novices and left feeling confident and keen to learn more, all thanks to scotty who provided a fun, relaxed and very informative session he has a wealth of knowledge and experience that he is able to teach in a way that suited us very well and made the session very enjoyable, 5 stars highly recommended!
Frequently asked questions
When do we run these courses?
All year round! We will book you in on demand. You won't see the course on the electronic calendar so please just get in touch to arrange your date.
We have never done it before is this ok?
This is a very frequently asked question! Yes of course, this is what we are here for! Around 60% of our customers are absolute beginners. If you have any apprehensions at all then please contact us and we will endeavour to put your mind at rest.
What is the youngest age for a full day family sailing courses?
We recommend the youngest person to be 8 years old to start the RYA Scheme syllabus. You can book a half day and we can take from 6 years. If you would like to discuss anything then please don't hesitate to get in touch.
What do I need to bring?
We provide all the clothing and equipment you will need. If you are going in a smaller boat then you will get wet. If you are going in a dryer boat then we will provide waterproof jackets and trousers to go over your clothing. Here at Mylor Sailing School we have plenty of wetsuits for all ages and sizes. The only thing we do not provide is footwear so you will need to bring something that you don't mind getting wet, like wetsuit shoes or trainers. If you are wearing a wetsuit you will also need to bring your bathing suit for underneath this and a towel. This will all be explained in your booking confirmation once you have confirmed your booking.
Do I have to capsize?
Here at Mylor Sailing School we will never make anybody do anything that they would not like to do. The keelboat will not capsize. For the more elementary stages of sailing you need to understand what to do in the event of a capsize and this will be talked through/demonstrated when you are booking onto the RYA courses. Normally once you have had a practical experience of a capsize in a controlled environment then any fears are normally alleviated.
I have a disability/learning difficulty/health condition, can I learn to sail or powerboat?
Yes yes yes!! Of course you can. Depending on the nature of your need we have a variety of boats, well trained staff and lots of great equipment to make this all possible. Please do not hesitate to contact us if you have any specific questions. Two different certification schemes available. Please read our Access Statement at the foot of this page for further info on site.
What happens if it is really windy?
As we are on the western shore of the estuary we are often quite sheltered. If we think it is going to be unsuitable conditions for your training then we will always let you know if any sessions cannot going ahead and try to rearrange the session.
Is sailing and powerboating sustainable/environmentally friendly?
All RYA recognised centres are members of The Green Blue incentive. We endeavour to pass on and educate all of our candidates with this mindset. The Green Blue is a UK wide programme created by British Marine and the Royal Yachting Association in 2005 to enable the UK recreational boating sector to decrease its impact on the environment by:
Enquire about this course